How to Send/Receive Private Messages
November 10, 2011 in How Tos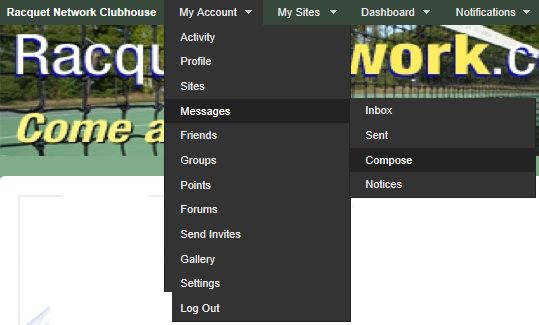 Members of Racquet Network communicate with each other via PRIVATE MESSAGES that are posted here in the Clubhouse.
All players are able to send, receive and compose messages to players who have been identified as FRIENDS. Additionally, group admins have the ability to broadcast messages to all of the players in box leagues and other groups.
Step by Step Instructions
1. Mouse over MY ACCOUNT in the menu bar at the top of the page.
2. Slide down the menu to MESSAGES
3. Choose one of the options available to you.
INBOX opens your inbox where copies of all incoming messages are stored until you delete them.
SENT opens your outbox where copies of all outgoing messages are stored until you delete them.
COMPOSE allows you to compose messages to FRIENDS and admins.
NOTICES allows admins to send group notices.
Join the only network that pays you to play racquet sports.

Register – Play Games – Report Scores – Get Free Stuff