Racquet Network was created in 2004 to help racquet sports players connect and find people to play with. Since then, we have grown to over 5000 members. In the past nine years, our members have played nearly a million games and burned more than 20 million calories together.
Many new, lifelong friendships have been developed and many unwanted pounds have been shed. Along the way, in areas where Racquet Network is strong, the number of players actively involved in racquet sports has increased — along with public court usage and club membership sales.
Unlike other Internet services, our database is not filled with thousands of fake profiles and spam accounts. The players you find here are real. Everybody wants to play. Our staff work hard every day to weed out fake profiles and keep the database tidy for our members.
Members of Racquet Network use our website to find players, join groups, report scores and play for less. Our credit system allows players to save money on racquet sports essentials. Our ranking system allows players to find meaningful competition at the recreational level. Regardless of where you live or which racquet sport you play, you are welcome to come and play with us.
TOP 5 SPORTS
Tennis
Squash
Pickleball
Badminton
Racquetball
At this time, tennis has the most support from our members, followed by squash. However, pickleball is surging and has passed badminton and racquetball in the past 12 months.
CHOOSE YOUR OWN LEVEL OF INVOLVEMENT
Occasional/Casual Players
Social/Recreational Players
Frequent/Competitive Players
OCCASIONAL/CASUAL PLAYERS
Casual Players tend to play once or twice a year in public facilities. They are not very serious about competition and are typically just seeking "someone to hit with" at a nearby court or facility.
Players in this group join Racquet Network in order access our "hit lists" and/or to save money on lessons by earning Pro Shop Credits. They also join Racquet Network in the hopes that getting involved here helps them meet active new friends who will invite them to get out and play more often.
The activity level for this group is generally low.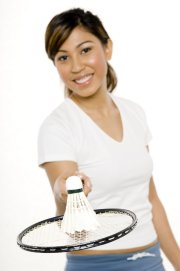 SOCIAL/RECREATIONAL PLAYERS
Approximately 65% of Racquet Network members fall into the social/recreational category. These players tend to play once or twice a month seasonally in public facilities. Some are like Casual Players in that they are just looking for "someone to hit with." Others are interested in rec-level competition in which games are played and scores are kept.
Players with a preference for rec-level competition tend to join our FREE Networks & Social Ladders. These ladders are designed as an introduction to competition. Scores are kept and standings are calculated, but the primary emphasis is on socializing, not competing.
The activity level for this group is low to moderate, depending on the season.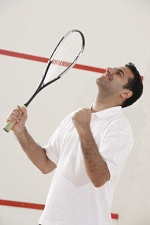 COMPETITIVE/FREQUENT PLAYERS
The Top 10% of Racquet Network members are frequent players who enjoy competition. They tend to play once or twice a week all year round. They join Racquet Network because they want to connect with other frequent players and are looking to play more often or at a higher level.
A major benefit of membership for this group is that they can join our PREMIUM competitive leagues and play in our tournaments. They can also report the scores from their games and earn Pro Shop Credits, which can be cashed in for savings on brand name racquets, strings, shoes, apparel and accessories.
The activity level for this group is high all year round.
ALREADY ACTIVE PLAYERS
Frequent players and club members who are already actively playing matches with their friends also join Racquet Network. They do this because they want to save money. Since Racquet Network rewards players for reporting the scores from their matches, players who are already active can join our network and start earning rewards immediately — rewards that can reduce prices below those of Tennis Warehouse and/or Costco.
Players in this group also join Racquet Network because they want to belong to our club house leagues, which give them a chance to measure themselves competitively against other players from the same club.
PLAY GAMES – REPORT SCORES – EARN REWARDS
Racquet Network has partnered with the biggest brands in racquet sports. Every time you report scores from your matches with other members, you can be rewarded with PRO SHOP CREDITS. Cash your credits in for discounts and FREE STUFF. Racquets. Bags. Shoes. Strings. Apparel. Accessories. YOU pick what YOU like. We ship it to you — anywhere in the world.
HOW DOES IT WORK?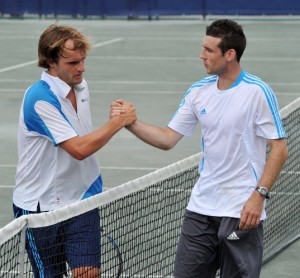 Here is a great example of how Racquet Network helps our members save money.
John plays tennis. He plays with a Babolat Aero Pro Drive and he plays every week. Most of the time, he plays with Ben who also plays with an Aero Pro Drive.
Once a week, they play at the local club. Sometimes John wins. Sometimes Ben wins. Regardless of who wins, they report their scores to our website. Every time they report a score, Pro Shop Credits are added to their account.
One year later, it's time for a new racquet. Babolat's newest version of the Aero Pro Drive is out and they both want it. So they go to our online Pro Shop where they find the Aero Pro Drive at a price that matches Costco and Tennis Warehouse. Then they discover that they can each use their accumulated Pro Shop Credits to reduce the price by an additional $25.00 — below the advertised price.
Like all frequent players who belong to Racquet Network, John and Ben save money by reporting their scores to our website. They also have someone else to play with when their regular partner is busy or injured.
Join us today. It's free. Meet some new people and save some money by reporting scores from matches you are playing anyway.
It doesn't matter where you live or which racquet sport you play. Racquet Network is open to all racquets sports players everywhere.