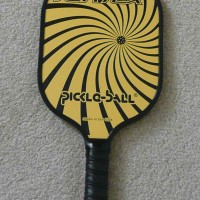 The Votex oversized pickleball paddle is remake of the classic 2G Champion oversized pickleball paddle. Players who liked the Champion will like the Votex as well. The new cosmetics have given a new look to a steady brand.
Vortex Pickleball Paddle – Construction
Like all 2G pickleball paddles, the Vortex pickleball paddle is made of up layers. In this case there are two outside layers, called facings, made of graphite. Between these two layers is a cardboard composite core.
Preferred by Beginners
Votex and Champion oversized pickeball paddles are often preferred by beginners because they have larger hitting surfaces. This larger surface is combined with a narrow, rectangular handle that helps new players direct the ball to where they want it to go.
Guards and Grips
This light-weight and durable paddle comes with a silicone edge guard and a cushioned grip.
Vortex Pickleball Paddles – Colours
Vortex pickleball paddles are available in yellow, red, green, blue, green or purple.
Features of Vortex Pickleball Paddles
Excellent choice for beginners
Larger head covers up mistakes
Disclaimer
Due to the large number of state, provincial and national pickleball associations now operating world wide, Racquet Network no longer tracks which paddles are considered "legal" and which are considered "illegal" under their various and constantly changing rules. If this issue is important to you, please contact these organizations before making your purchasing decisions. Racquet Network does not issue refunds for paddles on the basis of their acceptance or lack thereof by any local, state, provincial or national pickleball organization.
Pickleball Paddle Warranties
Pickleball paddles do not have warranties. Racquet Network is not able to provide replacement paddles, but will assist customers in contacting the manufacturer in the event of factory defects or other quality control issues.
HOW TO ORDER Vortex Pickleball Paddles
Order directly from our website by selecting your product and clicking ADD TO CART below. Order by telephone during regular business hours (Mountain Time) at 403-238-0687. Community centres, schools and other institutional buyers may also set up accounts and order via purchase orders or invoices.
Racquet Network members save even more by reporting scores and earning Pro Shop Credits. Join us today and start saving on brand name products purchased from our website or retail store in SW Calgary.

Clubs and teaching pros who are actively engaged in Racquet Network's social and competitive ladder systems are eligible for unadvertised discounts. Please contact Racquet Network directly for more information.