Summary
Our pandemic rules are strict. Our store is clean. Our environment is safe.
Please book an appointment before you come
When an appointment is booked, customer contact info is collected for use in an outbreak.
No browsing – We are a service counter only.
Masks required for ALL ages. No exceptions. No exemptions.
Minimize Risk – Order online – Pickup in-store
Details
We apologize for the inconvenience caused by the Covid-19 pandemic.
We understand that these inconveniences can be frustrating. They are frustrating for us, too.
Like every small business, we had to make a decision about how we were going to operate during these difficult times.
We could throw open the doors, act like nothing is happening and risk the heath of staff and customers. Or we could set tough standards to keep people safe.
We chose the second option.
We have staff, customers and family members who will likely die if they are exposed to Covid-19.
Therefore, we have adopted a strict set of policies to protect everyone, including:
Requiring masks indoors
Limiting the number of customers in the store
Reducing the handling of merchandise
Referring browsers to our website
Spacing out customer appointments
Replacing face-to-face communications with email
Encouraging online ordering
Offering curbside pickups
Maintaining contact tracing lists
Cleaning service counters between customer visits
We trust that these things are enough to keep everyone safe and we apologize to anyone who considers them to be an inconvenience.
Browsing
We have re-configured our store to prevent browsing. We have moved to a service counter arrangement. Under this new configuration, customers who enter the store are greeted by a service counter. An expert serves them at the counter.
If necessary, customers are invited behind the counter for service. Otherwise, all transactions occur at the customer service counter.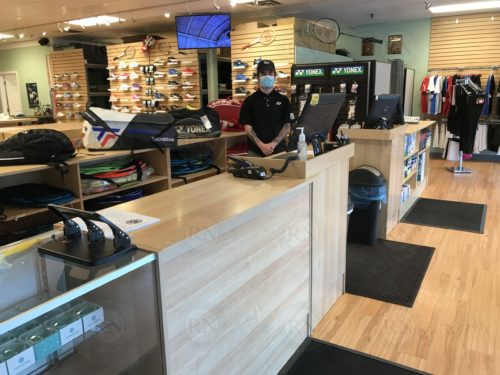 These changes to our layout make cleaning up between visits faster than ever. They also ensure that asymptomatic customers are not walking around the store touching items and potentially spreading the virus passively to other customers.
Phase 2 Rules and Policies
Rule 1 – Masks are required to enter the store. No exceptions.
Customers who don't want to wear masks can shop on our website.
Rule 2 – Customers who are not being served, must wait outside until we invite them in.
Given the size of our store, it is just not possible to social distance properly.
Rule 3 – No Returns
Due to the possibility of transmission, we are not accepting returns while the pandemic is underway.
Walk-ins & Appointments
In order to keep customers spread out and allow cleaning of our service counters between visits, we are requiring customers to make appointments.
Request appointment
Request SAFE Shoe Fitting
Filling out the appointment request form cuts down on the amount of time needed for each transaction in-store and increases the speed of contact tracing should that ever be necessary.
Customers with appointments are guaranteed entry at their scheduled time. They will be alone in our store with our experts for their entire visit.
They do not have to worry about any other customers entering our store during their visit.
Walk-in customers (customers without appointments) will not be served.
Appointment Tips
Tip 1 – Make appointments two or more days ahead of time. Last minute appointments are unlikely.
Tip 2 – In order to minimize face-to-face interaction, talk to an expert by email prior to your visit. We may be able to help you make a purchase prior to coming into the store — which is safest for everybody involved.
Tip 3 – Do not call to make an appointment. Appointments are set up by email so that dates and times are in writing. We do not accept appointments by telephone.
Shoe Sales
Customers who know their shoe size and just want to look at models can shop online and choose SHIP TO STORE for local pickup. They can then try on that pair of shoes in-store prior to taking them home. If it turns out they don't fit, the order can be canceled and refunded.
Customers who don't know their size or who want to try on a variety of shoes in-store will have to book an appointment.
SAFE Shoe Fittings
Shoe fittings are particularly hard to do safely during a pandemic for a variety of reasons.
First, shoe fittings are impossible to do with proper social distancing.
Shoe fittings require our staff and customers to be in face-to-face contact with each other for an average of 30 to 60 minutes.
Second, cleaning up after shoe fittings takes more effort than you might imagine.
Once the fittings are over, for example, all shoes tried on by the customer have to be decontaminated inside and out. They must also be set aside for 24 hours — meaning nobody can try them on until the next day.
The area where the fitting occurs must also be decontaminated and the staff member who did the fitting must have time to wash up thoroughly.
In other words, we have to allow a full 60 minutes in order to ensure safe shoe fittings in this store.
We must also space appointments out to ensure that customers are not trying on shoes that have been touched by other customers in the past 24 hours.
SAFE Shoe Fitting Policies
In order to ensure that the proper amount of time is allowed for safe shoe fittings, we are no longer doing fittings for walk-in customers.
All shoe fittings now require an appointment to be made at least one day in advance.
To set up a safe shoe fitting, please request an appointment.
Appointments should be made at least one full business day ahead of time so that we can go through the pre-screening process by email.
We also need advance notice to ensure that the staff member serving you has also been pre-screened and has not had any worrisome contacts or symptoms.