We apologize for the inconvenience caused by the Covid-19 pandemic.
We understand that these inconveniences can be frustrating. They are frustrating for us, too.
Our business (including our staff and their families) includes five immuno-compromised people.
We also serve a large number of immuno-compromised pickleball and tennis players.
And because we love our staff, our customers and their families, we accept our responsibility to protect them from harm with every bit of seriousness it deserves.
In order to keep everyone in our circle safe, we are doing a number of things recommended by Alberta Health.
Requiring masks indoors
Limiting the number of people inside the store
Reducing the handling of merchandise
Referring browsers to our website
Spacing out customer appointments
Replacing face-to-face communications with email
Encouraging online ordering
Offering curbside pickups
Maintaining contact tracing lists
Cleaning service counters between customer visits
We hope these things are enough to keep everyone safe and we apologize to anyone who considers these things to be an inconvenience.
Phase 2 Rules and Policies
Rule 1 – Masks are required to enter the store. No exceptions.
Since most people are already in the habit of carrying a mask with them wherever they go, this is neither an inconvenience nor a surprise.
Studies show that 80% of the people who have Covid-19, do not know they have it. More importantly, when a infected person wearing a mask interacts with an uninfected person wearing a mask, the chance of transmission is reduced to about 2%. Masks, therefore, are a practical, sensible and effective precaution.
Rule 2 – Customers who are not being served, must wait outside until we invite them in.
Given the size of our store, it is just not possible to social distance properly.
Therefore, we also ask that customers come alone when possible in order to minimize the risk of transmission.
Rule 3 – No Returns
Due to the possibility of transmission, we are not accepting returns while the pandemic is underway.
Walk-ins & Appointments
In order to keep customers spread out and allow cleaning of our service counters between visits, we are asking customers to make appointments.
Customers with appointments are guaranteed entry at their scheduled time.
Walk-in customers are welcome, but they may have to wait in line outside for service.
There are two ways to make an appointment.
Option 1 – Request an appointment online.
Option 2 – Request an appointment by email (orders@racquetnetwork.com).
We do not take appointment requests by phone.
Appointment Tips
Tip 1 – Make appointments two or more days ahead of time. Last minute appointments are unlikely.
Tip 2 – In order to minimize face-to-face interaction, talk to an expert by email prior to your visit. We may be able to help you make a purchase prior to coming into the store — which is safest for everybody involved.
Tip 3 – Do not call to make an appointment. Appointments are set up by email so that dates and times are in writing. We do not accept appointments by telephone.
But I don't want to make an appointment
Great! Even better. You can order online and ship to your home or business. Or, you can order online and do a curbside pickup. Either way, you get what you want without having to put on a mask or make an appointment to come into the store.
Browsing
We have re-configured our store to end the practice of browsing. We have moved to a service counter arrangement. Under this new configuration, customers who enter the store are greeted by a service counter. An expert serves them at the counter. If necessary — shoe fittings are one example — customers are invited behind the counter for service. Otherwise, all transactions will occur at the customer service counter.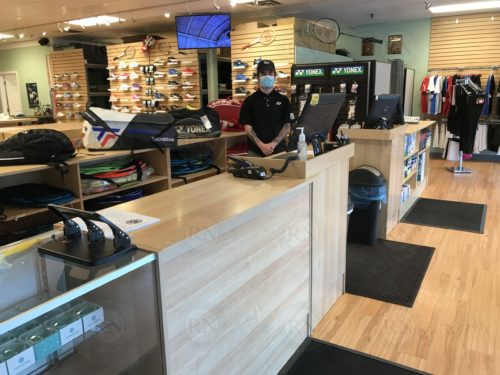 These changes to our layout make cleaning up between visits faster than ever. They also ensure that asymptomatic customers are not walking around the store touching items and potentially spreading the virus passively to other customers.