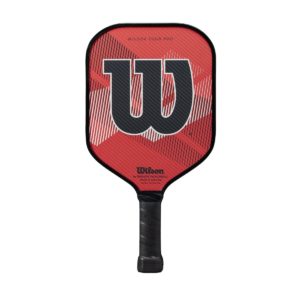 At long last, Wilson Sports has entered the premium pickleball paddle market where it will now compete with smaller brands like Selkirk, Onix and Singleton.
Over the past four years, Wilson limited themselves to small number of made-in-China paddles as it started the process of dipping its toe into the Canadian pickleball paddle market.
About a year ago, however, rumors began to circulate about an impending deal with Engage Pickleball, one of the top producers of premium paddles in the USA.
Today, that rumor became reality as Amer Sports Canada shipped its first order of Wilson premium pickleball paddles manufactured by Engage to Racquet Network's store in southwest Calgary.
"We've had samples in-store for customers to see for more than a week," says owner Brent Johner. "We started taking orders on our website on the weekend. In a few days we will have demo racquets for players who want to test drive them and inventory for players who want to buy them."
---
Wilson Pickleball Paddles
Wilson now has a new line of pickleball paddles made in the USA by Engage pickleball.

---
There are five paddles in the new lineup, says Johner. The prices range from $99.00 to $169.00. Racquet Network is committed to stocking all five as core items. These five paddles will be added to the existing lineup to bring the total number of Wilson paddles to nine.
"We heard last year that a deal might be coming that would result in a new line of premium pickleball paddles sporting the Wilson logo," Johner admits. "At that point, we started clearing out Selkirk, Manta and other brands to make room for the new Wilson products. It took longer than we would have liked, but we are pleased that the day has finally come."
"Engage is a good company," admits Johner. "We seriously considered bringing them in a few years ago, but things just didn't work out. Now, we get the best of both worlds — Engage's quality and Wilson's distribution."
Wilson's entry into the premium pickleball paddle market will benefit consumers in the long run, Johner believes. "This is going to drive prices down," he predicts.