Description
Babolat ™ Movea Padel Shoe
The Brand
Babolat is a French company that has been around since 1875. Over the past 25 years, their outdoor court shoes have consistently improved in quality.

In part, this is because they have partnered with Michelin — also a French company — to develop one of the best out-soles for tennis, padel, and pickleball.

Traditionally, players have had to choose between durability without comfort (Adidas) and comfort without durability (Nike). In the past decade, however, Babolat and Michelin have combined to develop a sole that offers sufficient durability with reasonable comfort. This blend gives up a bit on the durability side, but it adds comfort to every step the athlete will take in their shoes. At the same time, this blend ensures that athletes will get sufficient mileage before having to buy a new pair of shoes.
The Category
This court shoe is in our Adult Recreation category. Shoes in this category are suitable for continuous adult recreational use over prolonged periods of time. On average, players tend to move about 3 kph while playing doubles racquet sports and about 4 kph while playing singles. So you can get an idea of how long this shoe should last by figuring out how many hours you play per week on average. Please note: this is an average. Some players are extremely hard on shoes and will have to take that into account.
Sport Profile
Although this shoe was designed specifically for padel, it is also an excellent choice for outdoor pickleball. The segmented three-part sole in the forefoot is ideal for players who have to bend low to receive or project the ball — a movement that is common to both padel and pickleball.
The Insole
Because observation of the game and its movements are Babolat's core expertise, they have designed the KPRS-X system to protect your heels from impact throughout matches and training sessions. This shoe's EVA foam insert has been placed and sized to protect players effectively at each heel.
The Shape
We describe this shoe as a D width with a standard toe taper. D-width is standard-width for men's shoes and wide-width for ladies. Standard taper shoes tend to fit younger athletes better than older athletes because forefeet tend to widen over time.
As always, the best advice we can give you is to come into our store for a fitting before buying any new court shoes. As we age and as we engage/disengage in athletics, our feet change shape. On average, a player's foot size increases by one and one-half sizes between the ages of 16 and 60. During this period, feet also widen by one to two widths. As a result, we have learned that the most common cause of foot pain in our athletes is that they are wearing shoes that are too small. Because their feet have changed so gradually over time, they have not noticed it. By coming in for a fitting, players can be sure they are buying the right size and shape for their feet right now.
The Outer Sole
By combining Babolat's expertise and Michelin's know-how, Babolat has developed the first sole dedicated to Padel: great flexibility from the two grooves on the forefoot, maximum dynamism from a new grip tread, perfectly suited to sand and synthetic grass, and in the most exposed area the increased thickness of the sole ensures a longer life cycle.
The Platform
We rate the platform of this shoe as athletic, which is is our highest rating for court shoe platforms. The platform on this shoe is wide enough and stable enough for aggressive athletic movements in all directions.
Ride
Because observation of the game and its movements is Babolat's core expertise, they have designed the KPRS-X system to protect heels from impact throughout matches and training sessions. Its EVA foam insert has been placed and sized to protect players effectively at each heel attack.
The Upper
The upper on this shoe combines ultra-durable Kevlar® and polyamide fibers over most of the remaining upper. Four reinforced rigid fiber straps provide structural support. This combination of materials makes the entire upper stable, durable, breathable and impressively lightweight.
The Lacing system
The lacing system on this shoe features six pairs of eyelets plus an additional lace-lock eyelet for those who need it. The top pair of eyelets and the bottom three pairs of eyelets are reinforced, which is excellent. The second and third pairs of eyelets are fabric loops which prevent strangulation of the blood vessels across the top of the foot. The laces are flat, which means that once tied, they are more likely to stay tied.
---
Babolat Power Strap Feature

2 strong straps specially designed to better support the midfoot and perfectly suited to the lateral footwork that tennis requires.
---
Michelin Rubber Sole Feature

The Michelin Original rubber composition has proven its worth over the past 15 years and beyond, It offers a great combination of grip and durability to meet the extreme demands of tennis footwork.
---
Babolat KPRS-X Feature

The KPRSX system provides optimal cushioning at each stage of the game. A softer, shock-absorbing EVA foam pad offers perfect heel protection for any support. The heel rocker enhances foot motion for better stopping/recovery transition. The result is unrivalled cushioning.
---
Time Saver Tip
Want to be 100% certain we have a particular shoe in a particular size when you get to the store?
Order it online and choose Ship to Store for Local Pickup. We will send you an email when the shoe is here and ready for you to try on.
Once you get here, if it doesn't fit, you can exchange it for one that does or we can issue a full refund.
And if it turns out that the size or colour you want isn't available, we will issue an automatic refund. No need to come to the store at all.
---
Large Shoe Selection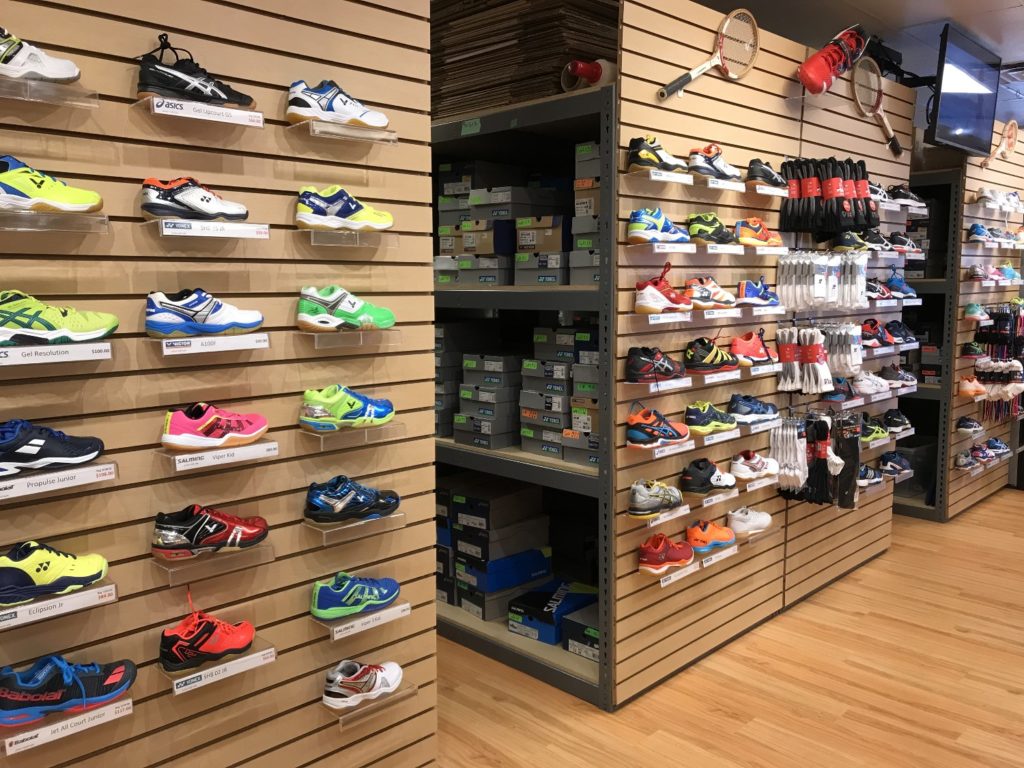 Experiencing unusual foot pain? Come in for a professional fitting.
Open 7 days a week. Lots of free parking. 310 2525 Woodview Dr SW.
---
Shoe Widths Guide
Companies describe their shoe widths in different ways. Therefore, 4E shoes that fit in one brand may not fit in another. As always, we strongly recommend that players come into our store for an expert court shoe fitting before buying any unfamiliar brands.
| | | | |
| --- | --- | --- | --- |
| ASICS | VICTOR | LADIES | MEN |
| 2A | 2.0 SL | ladies extra narrow | men's double extra narrow |
| A | 2.0 | ladies narrow | men's extra narrow |
| B | 2.5 F | ladies standard | men's narrow |
| D | 2.5 U | ladies wide | men's standard |
| E | 3.0 U | ladies extra wide | men's wide |
| 2E | 3.5 U | ladies double extra wide | men's extra wide |
| 4E | | ladies triple extra wide | men's double extra wide |
---
Court Shoes – Expert Advice:
---
Service Language Options
In addition to English, we have staff available who can serve customers in other languages.
我们提供普通话服务!给我们发个电子邮件,或者来我们的商店预约。我们会高兴的帮助您。
很抱歉,我们不在电话上提供中文服务
电子邮箱: orders@racquetnetwork.com
商店地址: 310-2525 Woodview Dr SW T2W 4N4
Ang Dito sa Racquet Network ay nagbibigay ng serbisyo sa tagalog. Mag email lang sa orders@racquetnetwork.com. O mag-book lang ng appointment sa store namin na matatagpuan sa 310-2525 Woodview Dr SW T2W 4N4. Ang tulong sa tagalog ay hindi maaari sa pamamagitan ng tawag.
Product Details
| | |
| --- | --- |
| ESW | 0.874 kg |
| ESD | 34 × 19 × 12 cm |
| Gender | Men |
| Brand | |
| Sport | |
| Grade | Adult Recreation |
| Shoe Size | US MEN 7, US MEN 7.5, US MEN 8, US MEN 8.5, US MEN 9, US MEN 9.5, US MEN 10, US MEN 10.5, US MEN 11, US MEN 11.5, US MEN 12, US MEN 12.5, US MEN 13 |
| Shoe Width | |
| Item Type | Special Order Item |
| Special Item Notes | Special items ship directly from the warehouse and are not usually stocked in-store. Special items include unique items as well as core items in uncommon sizes, colours, styles or other variations. |
| Try Shoes On | If you want to try shoes on, order them online and choose SHIP TO STORE for local pickup. That way you can come in and try them on. You will be notified by email when they are in-store. |