Description
Free string stencil with custom racquet restringing. Tennis, squash, and badminton loaners are available.
Exclusive benefit for Five Star Team members.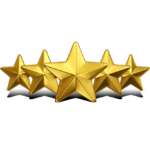 Loyal customers who are out there saying nice things about us on multiple social media platforms may be invited to join our Five Star Team.
Five star customers get access to an exclusive range of special opportunities.
Membership on our Five Star Team is by invitation only. Nobody can apply to join. There are no official requirements.
Generally speaking, our social media team watches for loyal customers who have said nice things about us on major review platforms such as Google, Facebook, Yelp, BBB, and Yellow Pages.