Description
Victor Auraspeed 90K H Badminton Racquet
---
Racquet Demo Program

TRY IT BEFORE YOU BUY IT
Racquet Network's pro shop has more than 100 demo racquets on hand. Our demo program gives players a month to try a variety of racquets and then choose the one that is right for them. Book an EXPRESS SERVICE APPOINTMENT to inquire in-person for details.
---
The Brand
Victor Sports was founded in Taiwan in 1968. Within a few years, the company's feather badminton shuttles were generally recognized at the best badminton shuttles in the world. Rapid European expansion occurred over the 1990s as demand for the brand increased worldwide. Today, the quality of Victor badminton products is comparable to Yonex while remaining lower in price across the board.
Our Description
Victor Auraspeed 90K is a defensive racquet for adult players who play singles or drop-in mixed doubles. It features a headlight frame with a medium stiff shaft.
---
Help Choosing Badminton Racquets

Need help choosing a badminton racquet? Come into our store and talk to our friendly and knowledgeable staff. If you can't do that, try our RACQUET SELECTOR.
---
Manufacturer's Description
Defensive racquet for advanced-intermediate to advanced adult players.
---
Racquet Specifications
---
Flex
This is a medium stiff badminton racquet, which makes it suitable for adult male and female recreational players. Big, strong athletic players may find this frame too soft, but it will be exactly right for average players.
Materials
The loop is made of a mix of advanced materials that include high resilient modulus graphite, Nano Fortify TR+ and Hard Cored Technology. The shaft consists of high resilient modulus graphite, Pyrofil and 6.8 Shaft. Further details regarding materials are posted further down this page.
Available Weights & Grip Sizes
The Victor Auraspeed 90 is being manufactured in two grip sizes (5 and 6) and two different weights: 3U and 4U. The 4U is an average of 83 grams. The 3U is an average of 88 grams.
Stringing Advice
The heavier racquet (3U) can be strung at higher tensions. The max for the mains is 28 lbs while the max for the crosses is max 30 lbs. The lighter version (4U) is limited to 26 for the mains and 28 for the crosses. The key word here is CAN. Just because the racquets CAN be strung this way does not mean they SHOULD. We recommend 22 lbs for the mains and 24 lbs for the crosses.
---
Racquet Technology
---
Seven Six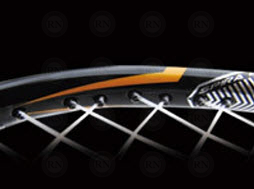 The idea behind this technology is that single-pass grommet hole construction creates less friction between strings. Therefore, when badminton racquets with this feature are strung by professional racquet stringers who know how to minimize friction, this technology can effectively reduce tension loss while simultaneously extending string life.
---
Hard Cored Technology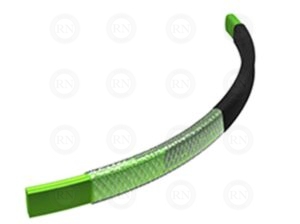 Inspired by an American military helicopter, the loop in this racquet features a multi-layered structure made by carbon fiber and composites. This minimizes weight and reinforces both feel and performance at a critical standard.
---
Anti-Torsion System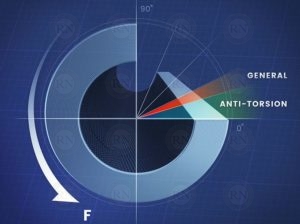 The shaft is key to power transmission and that's why Victor has been committed to developing better shafts. Through the combination of highly resilient materials and innovative design, Victor has created the best shaft ever with incredible anti-torsion performance and resilience.
---
Badminton Racquets – Expert Advice

No posts found.
---
Service Language Options
In addition to English, we have staff available who can serve customers in other languages.
我们提供普通话服务!给我们发个电子邮件,或者来我们的商店预约。我们会高兴的帮助您。
很抱歉,我们不在电话上提供中文服务
电子邮箱: orders@racquetnetwork.com
商店地址: 310-2525 Woodview Dr SW T2W 4N4
Ang Dito sa Racquet Network ay nagbibigay ng serbisyo sa tagalog. Mag email lang sa orders@racquetnetwork.com. O mag-book lang ng appointment sa store namin na matatagpuan sa 310-2525 Woodview Dr SW T2W 4N4. Ang tulong sa tagalog ay hindi maaari sa pamamagitan ng tawag.
Product Details
| | |
| --- | --- |
| Sport | |
| Brand | |
| Game Group | Singles & Doubles |
| Format | Customized |
| Length | |
| Grip Size | |
| Frame Weight | 4U (80-84g), 3U (85-89g) |
| Frame Flex | |
| Warranty | 6 months |
| Item Type | Ships from e-commerce division 2 |