Description
Oversized frame allows for easier play with power.
Specifications:
Head Size: 115 sq.in.
Weight: G: 260g/9.2oz
Grip Size: G1, 2, 3, 4
Length: 27 in.
Width Range: 26.0mm / 29.5-26.0mm / 27.0-25.0mm
Balance Point: G: 350mm
Material:
– H.M. Graphite
– VIBSLAYER CARBON
– QUAKE SHUT GEL+
Colour: Light Green
Rec. String: REXIS, TOUR SUPER 850
Stringing Pattern: 16/17
Stringing Advice: 40-55 lbs
Made in Japan
---
Racquet Demo Program

TRY IT BEFORE YOU BUY IT
Racquet Network's pro shop has more than 100 demo racquets on hand. Our demo program gives players a month to try a variety of racquets and then choose the one that is right for them. Book an EXPRESS SERVICE APPOINTMENT to inquire in-person for details.
---
We are Racquet Stringing Experts
---
Yonex Stringing Team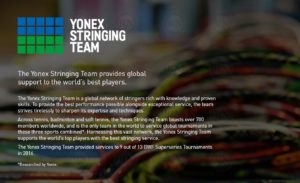 Racquet Network is a member of the prestigious Yonex Stringing Team. We are invited to string at elite tennis and badminton events. While we cannot attend every event we are invited to, we do our best to help out when such events are in Alberta.
Product Details
| | |
| --- | --- |
| Sport | |
| Brand | |
| Grade | Adult Performance |
| Game Group | Doubles Only |
| Age Group | |
| Player Type | Defensive, Power Server |
| Stroke Style | |
| Format | Pre-strung |
| Length | |
| Grip Size | |
| Head Size | 105 sq in (677 sq cm) |
| Balance | |
| Frame Flex | |
| Frame Weight | 270g/9.5oz |
| Finished Weight | 285g/10.1oz |
| Pattern | |
| Recommended Tension | 40-55 lbs (18-25 kg) |
| Item Type | Ships from e-commerce division 3 |
| Warranty | 6 months |