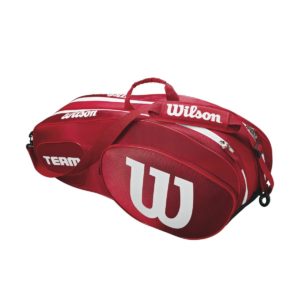 Racquet Network offers Calgary's largest selection of tennis bags. We stock racquet bags at all price points including budget, recreational and professional. We also stock racquet bags for all ages: children, teens and adults.
Unfortunately, due to limited space in our store, we are not able to stock everything that is available in our warehouse. Therefore we encourage customers who are looking for a very specific bag to order it through the website and then choose SHIP TO STORE FOR LOCAL PICKUP. This ensures that customers who are looking for something very specific are able to get exactly what they want without wasting a trip.
If you are not sure exactly what you want or need, come into our store for consultation with an expert. Our experts know a lot about bags and they will be able to help you out with some practical advice that is specific to how you will be using your bag.
For example, if you are playing outdoors where it can be dirty, you will probably want a dark bag. You will also want a bag with the straps on top so that the dirt from the ground does not transfer from the straps to your clothing. On the other hand, if you play indoors at a club, you will want a bag that is narrow enough to fit in your locker.
When it comes to bag selection, our in-store experts know lots of little things that most people can't even imagine. So rather than standing in the aisle at a box store trying to guess what you might need, come in and see us. We can help you find the right bag for your specific needs.
---
Below is a small sample of the bags we offer in this category. To see our full range, use our ONLINE RACQUET SELECTOR below or visit is in-store.

---