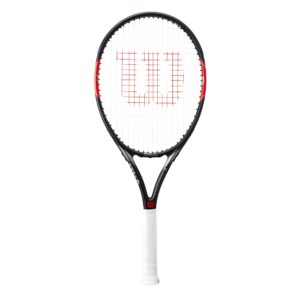 I bought my Wilson tennis racquet ten years ago. How do I know if it's time to replace it?
Experts in our store hear this question almost every week. How do I know if I should replace my tennis racquet?
In most cases, the answer is simple. If you have to ask the question, it's probably not necessary. You may want WANT to replace your racquet — and that's fine. But that doesn't mean you HAVE TO replace it. It doesn't mean you SHOULD.
The only time you HAVE TO replace a racquet is when it is damaged. If, for example, you have worn holes in the bumper of if you have one or more broken grommets, your old tennis racquet may become a string eater. No matter how often you restring it, you will need to restring it again soon because the bumper and/or grommets are damaged are are unable to protect the string from coming into contact with the sharp edges of the graphite frame.
---
HOW TO CHECK FOR FRAME DAMAGE
Start at 12:00 on your racquet loop. Check the outside of the frame looking for cracks in the frame or damage to the bumper guard.
Once you go around the racquet to 12:00 on the outside of the frame, check the inside of the frame, again starting at 12:00. Look for split or missing grommets.
Missing grommets are obvious but split grommets can be deceiving, so you will want to do this in bright sunlight or, if indoors, use a flashlight.
---
Beyond actual frame damage, virtually every other instance is a want-to, not a need-to situation. Perhaps your playing style has changed and you want to get a new frame that is better suited to your playing style. Or perhaps you are playing more doubles or more singles than you used to. You may want to update your frame for that reason.
Sometimes it just time for a change. Some players get bored with the same gear year after year. So they buy something new to inspire themselves. Or maybe they buy something new to reward themselves for playing more. Whatever the case, there is nothing wrong with getting a new racquet simply because you want one. If the new one doesn't work out, you can always go back to the old one.
Another thing to consider about the timing of replacing your old Wilson tennis racquet is that is can take a season or more to become fully comfortable with a new racquet. This is especially likely to be the case if you have been playing with the same racquet for a decade or more.
Our advice to players who are thinking about making a change is to take advantage of our Try One Before You Buy One program. Customers who visit us in our store can test drive a large range of brands and models over a month. At the end of the month, the security deposit they have put down goes toward the purchase of the racquet they decide to buy.
It's a very popular program. Our customers demo more than 1000 racquets every year.
---
Wilson Tennis Racquets
| | |
| --- | --- |
| | For a full list of racquets in this category, please check out our ONLINE RACQUET SELECTOR. You can sort by sport, gender, brand, size, weight, balance and more. |