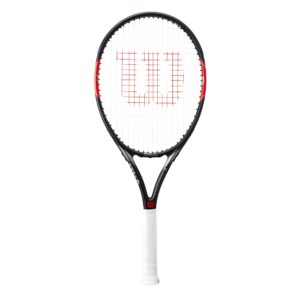 As tennis players develop and age, their playing styles change.
Boys become teenagers. Teenagers become young men. Young men become older men and eventually become seniors. And as players transition through each stage of development, their playing styles and their equipment needs change.
Younger teens need some power assistance from their racquets. Once they develop their adult muscles, they don't need it anymore. However, as men age past their prime, the day eventually comes when they need power assistance once again. And once they become seniors, they generally also want softer strings that are easier on their bodies.
The way men play tennis also changes through the years. Young players and young men play mostly singles. Married men play a mix of singles and doubles while the vast majority of seniors play doubles almost exclusively. As a result, their racquet needs change as they age.
What does seem to remain constant with male tennis players is brand loyalty. Wilson players tend to remain Wilson players throughout every stage of their development. They will change models from time to time, depending on their needs, but they don't change brands.
You may be one of these players and you may be at one of those points in time where you have decided to upgrade your Wilson racquet to something that is better suited to your age or your stage of development. Perhaps the racquet you bought at the peak of your game 10 years ago is not the right racquet for you now. Perhaps you are playing more doubles than you used to. Or maybe it's just time for something new. Something fresh.
Come into our southwest Calgary store and talk to us. Our experts can set you up in our Try One Before You Buy One program. You can take a month and try a variety of Wilson racquets to see what might work best for you now.
The program does require a deposit, but the deposit is refundable against the racquet that you decide to purchase. So in the end, as long as you buy a racquet from us, the program costs you nothing. It'a great way to find out what your options are. It's the best way to start the upgrade process. It's the best way to figure out what is right for you right now.
---
Wilson Tennis Racquets
| | |
| --- | --- |
| | For a full list of racquets in this category, please check out our ONLINE RACQUET SELECTOR. You can sort by sport, gender, brand, size, weight, balance and more. |