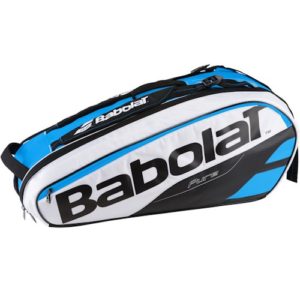 You find yourself standing in front of a tennis bag display at a large sporting goods box store. How do you know which bag is right for you? The only information you have is price. How do you know if this bag is right for you?
Cheap bags are cheap for a reason. Cheap zippers. Thin fabrics. Weak stitching. But expensive bags can be expensive for no reason other than featuring a replica of a professional player's autograph. So how is an average person supposed to know the difference?
So instead of standing in front of a bag display wondering what the difference is, come in and talk to one of our experts. We offer the same tennis bags at the same prices as the national sporting good stores. The difference is that we have a larger selection and we have staff who are trained to answer questions.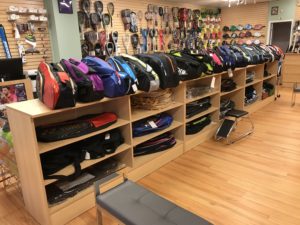 Most importantly, though, our experts are trained to ask YOU questions. What will you be carrying in your bag? Are you playing indoor or outdoors? How long do you want your bag to last?
Babolat ™ makes dozens of different racquet bags. They make budget bags, recreational bags and professional bags. They make bags for adults, teens and children. They make ladies bags and men's bags. They make bags for coaches and bags for players.
So unless you are an expert (like us), it can be difficult to figure out which one is right for you. We understand. So come in a see us.
---
Below is a small sample of the bags we offer in this category. To see our full range, use our ONLINE RACQUET SELECTOR below or visit is in-store.

---