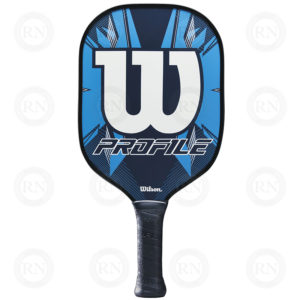 The Wilson ™ Profile pickleball paddle has just arrived in Calgary and Racquet Network is already warning that it may be a game changer.
At 8.4 ounces (234 grams), the new Wilson Profile is perfectly placed in the sweet spot range for pickleball paddles, which is considered to be 7.5 to 9.0 ounces. It is also thicker than previous Wilson paddles, which makes it a more playable paddle that will be better suited for beginners and casual players. And finally, it features the same honeycomb polymer core that is found in the world's best pickleball paddles.
"This paddle may be a game changer," says Racquet Network's founder, Brent Johner. "This paddle may permanently change the landscape of retail pickleball. It may put some of Wilson's competitors out of business."
So why this prediction from one of Canada's foremost pickleball retail stores? What is it about this paddle that could shake up the pickleball industry?
"In a word," says Johner, "price. This paddle is equally as good as most of the so-called premium paddles that sell for two and three times as much. Add to that Wilson's one-year warranty and Wilson's distribution capabilities and I can foresee this paddle becoming the top selling pickleball paddle in the world within 12 months."
Wilson's first foray into the pickleball market was not entirely successful, notes Johner. "Their original paddles were thin and brittle, so the failure rate was pretty high. Wilson stood behind these paddles and replaced every one that came back under a warranty claim, but the damage to the brand and to the retailers who carried them was pretty bad."
The failures of the first generation of Wilson pickleball paddles allowed their competitors to brand them as Chinese-made junk, says Johner. "Whether that was fair or not, the label stuck."
With the release of the new Profile, though, Johner believes that Wilson is about to shed that label for good. "This seems to be a quality paddle," admits Johner. "They have made some really good decisions this time. It's a half inch thick, which is good. It's a polymer core, which is great. And it's exactly the right price."
While everybody else is going up in price, Wilson is coming down. "At this retail price," predicts Johner, "Wilson is going to sell a ton of them." All that remains to be seen is how satisfied customers are with it once they have it.
---
Wilson Pickleball Paddles