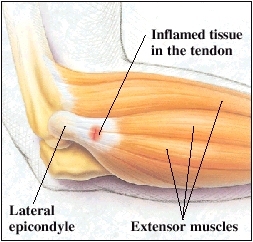 Racquet Network's store in southwest Calgary offers a variety of options for players suffering from tennis elbow. Visit our online Pro Shop or come in to see us a 310 Woodview Dr SW. We are open Monday through Saturday from 10:00am until 7:00pm.
Tennis Elbow Treatment Devices
Racquet Network does not treat tennis elbow nor do we claim have a cure for it. We do, however, carry a variety of treatment tools in our Calgary store that our members have recommended to us over the years. At the top of this list are hard-to-find, quality gel packs that are specifically designed for icing elbows. We also carry a variety of exercise devices that are designed to strengthen weak muscles in order to reduce the likelihood of tennis elbow recurrence.
Tennis Elbow Supports
Depending on the current state of your injury, your physiotherapist may recommend rest or continued exercise. Racquet Network carries a line of supports that are designed to reduce some of the pressure that causes tennis elbow pain.
Tennis Elbow Prevention – Racquets
Whether you shop online or come into our Calgary store, you will find that we carry a number of tennis frames and pickleball paddles that are specially designed to reduced the number of harmful vibrations reaching your elbow. Many players with recurring tennis elbow issues carry at least one such racquet in their bags at all times. Some who live with frequent tennis elbow issues choose to play only with low vibration racquets.
Tennis Elbow Prevention – Strings
In addition to low vibration racquets, Racquet Network carries Calgary's largest selection of soft, elbow-friendly tennis and squash strings. For many players with tennis elbow, soft strings are not simply a luxury; they are a necessary investment in their health and well being.
Tennis Elbow Prevention – Dampeners
Players with a favorite racquet and/or a favorite string are often unwilling to make changes to either, even when their racquet/string choices are at the root of their tennis elbow problems. Fortunately, Racquet Network carries a variety of dampeners that can be added to any racquet to reduce the intensity of harmful vibrations.
Come into our Calgary store for a consultation or check out the TENNIS ELBOW section of our online Pro Shop. While we do not endorse any specific treatments for tennis elbow, we can provide you with many tools that our members have found to be helpful to them.