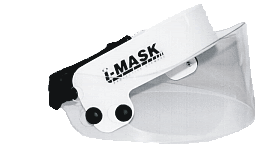 Racquet sports, believe it or not, are the No. 1 cause of serious eye injuries world-wide. In squash, it is estimated that one-in-four players will suffer an eye injury at some point if they choose not to protect themselves.
While it is possible to get hit in the eye with the ball during a squash match, the greatest danger, by far, comes from your opponent's racquet. This is especially true when your opponent is hitting a backhand in the vicinity of the tee.
Protect yourself with certified eye protection. If you don't normally wear glasses, look for squash or safety goggles with plenty of venting on the sides and out the top of the frame. This will prevent condensation from forming on the inside of the lenses.
If you do wear glasses, consider buying an I-Mask. I have played with one for years. I haven't won any beauty contests while wearing it, but I haven't suffered any eye injuries either.
Remember that goggles get scratched and need to be replaced from time to time. So keep that in mind when purchasing a new pair.
Fortunately, the I-Mask system allows players to replace just the lens once the lens become scratched. There is no need to be the entire system all over again.
I-Mask Protective Eyewear
NO FOGGING OR HAZING i-MASK is the player's first choice because it has eliminated all the disadvantages of competitive products like: fogging, hazing, nose discomfort and restricted peripheral vision.
PROTECTION FOR PLAYERS WHO WEAR GLASSES The visor can be worn over glasses, supporting them & helping to protect the spectacles from impact on lenses or frames.
LETS YOU LOOK LIKE YOURSELF The i-MASK visor does not have a frame around the visor. You look more as though you're wearing a sweatband than eyewear. And if you've just played a great game, isn't it nice to be able to be recognised?
FULL PERIPHERAL VISION There is virtually no vision restriction. See a testimonial.
LIGHTWEIGHT Because the i-MASK visor weighs so little, you're likely to forget you're wearing it.
YOU CAN REPLACE INDIVIDUAL PARTS You can buy replacements for all parts of the i-MASK visor so you don't have to buy a whole new unit if one part is damaged or lost.
JUNIOR SIZE i-MASK Junior size visor is just 11% smaller than the adult size. It is just perfect for the 7 – 10 year old or the very small adult. The i-MASK Junior visor has all the safety features of the adult size, with more protection for the face than other eyewear, and unrestricted vision
2 YEAR WARRANTY The i-MASK visor is manufactured from optically clear polycarbonate and is virtually unbreakable and has a 2 year warranty on all fixing points.