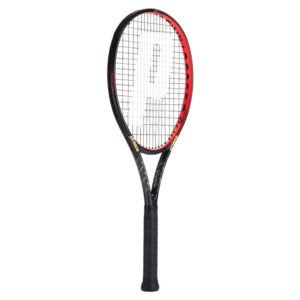 Most Prince ™ fans have been Prince fans for a very long time. Many of them bought their first Prince tennis racquets in the late 80s or early 90s. They have a long term relationship with the brand and aren't interested in changing.
Eventually, however, the time comes to upgrade. Often, this decision is forced on a customer when either the bumper guard wears through or enough grommets break off that their Prince racquet becomes a string eater that is too costly to maintain.
Sometimes, though, it's a pride issue. Players love their Prince racquets, but they become self conscious about carrying around a racquet that is older than their adult children. They may not need a new racquet for practical reasons, but they want a new one for appearance's sake.
Regardless of your reason, our experts can help. Simply drop us an email with the specs of your current Prince tennis racquet. We will look at the specifications of the new frames and tell you which of the current models is most like the one you have.
We can't recommend a specific racquet for you because have a firm company policy in place that prohibits our experts from recommending specific brands or specific models. However, our experts can answer questions about specifications and other details that will help you make an informed decision.
---
Prince Tennis Racquets
| | |
| --- | --- |
| | For a full list of racquets in this category, please check out our ONLINE RACQUET SELECTOR. You can sort by sport, gender, brand, size, weight, balance and more. |