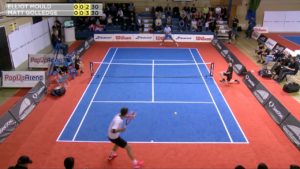 Touchtennis is a modified version of tennis played by adults on a compact court with foam balls and shorter (21 inch) rackets.
It is regularly featured on Sky Sports in the United Kingdom and is growing in popularity and acceptance as an alternative form of the full size game of tennis.
The first ever Touchtennis tournament help on Canadian soil is being organized by David Rossolatos (david.rossolatos@tennisalberta.com) of Tennis Alberta. It will occur at the Ralph King Athletic Centre in Edmonton on Saturday, Sept. 29, 2018.
The draw will be capped at 24. It will be also the first event on Canadian soil with prize money and ranking points.
Registration includes lunch, which will be a burger/hot dog BBQ around lunch time.
The main event will feature singles while consolation event will feature doubles.
For more information, please visit this url:
https://www.touchtennis.com/gb/200-edmonton-classic-6192.php?utm_source=Tennis+Alberta+News&utm_campaign=478fef7060-EMAIL_CAMPAIGN_2018_09_18_09_10&utm_medium=email&utm_term=0_811eadb7e7-478fef7060-97920605