Description
Babolat ™ Jet Mach 3 All Court Tennis Shoe
The Brand
Babolat is a French company that has been around since 1875. Over the past 25 years, their outdoor court shoes have consistently improved in quality.

In part, this is because they have partnered with Michelin — also a French company — to develop one of the best out-soles for tennis and pickleball.

Traditionally, tennis players have had to choose between durability without comfort (Adidas) and comfort without durability (Nike). In the past decade, however, Babolat and Michelin have combined to develop a sole that offers sufficient durability with reasonable comfort. This blend gives up a bit on the durability side, but it adds comfort to every step the athlete will take in their shoes. At the same time, this blend ensures that athletes will get sufficient mileage before having to buy a new pair of shoes.
The Category
This court shoe is in our Adult Performance category. Shoes in this category are suitable for continuous adult use over prolonged periods of time. On average, players tend to move about 3 kph while playing doubles racquet sports and about 4 kph while playing singles. So you can get an idea of how long this shoe should last by figuring out how many hours you play per week on average. Please note: this is an average. Some players are extremely hard on shoes and will have to take that into account.
The Insole
This shoe features an upgraded insole that is better than we expect to see in comparable shoes. As with all athletic shoes, players should monitor wear on their insoles over time and expect to replace the insoles at about the halfway point in the life of the shoe.
The Shape
We describe this shoe as a D width with a standard toe taper. D-width is standard-width for men's shoes and wide-width for ladies. Standard taper shoes tend to fit younger athletes better than older athletes because forefeet tend to widen over time.
As always, the best advice we can give you is to come into our store for a fitting before buying any new court shoes. As we age and as we engage/disengage in athletics, our feet change shape. On average, a player's foot size increases by one and one-half sizes between the ages of 16 and 60. During this period, feet also widen by one to two widths.
As a result, we have learned that the most common cause of foot pain in our athletes is that they are wearing shoes that are too small. Because their feet have changed so gradually over time, they have not noticed it. By coming in for a fitting, players can be sure they are buying the right size and shape for their feet right now.
The Outer Sole
The outer sole of this shoe is a hard non-marking synthetic rubber (Michelin DIN 20). This type of sole offers maximum durability on acrylic tennis/pickleball courts and reasonable traction on most common surfaces — except hardwood and polished concrete. Although wear patterns will vary from athlete to athlete, we rate this sole at 750-1000 km.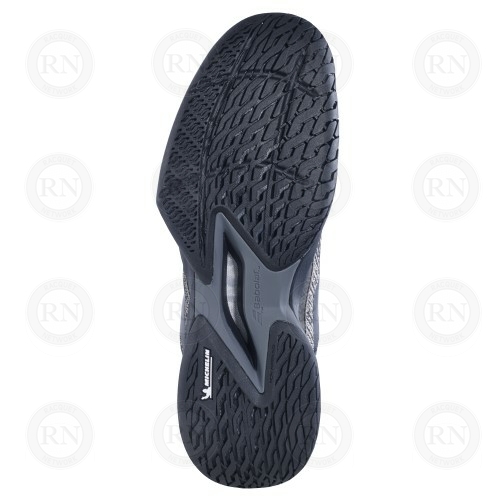 The Platform
We rate the platform of this shoe as athletic, which is is our highest rating for court shoe platforms. The platform on this shoe is wide enough and stable enough for aggressive athletic movements in all directions.
Ride
This shoe features a high cushioning EVA heel pad for an enhanced ride. The heel rocker has been improved for better stopping/recovery transition. However, this is an athletic shoe for younger players not a highly cushioned "comfort" shoe for older athletes.
The Upper
The upper on this shoe combines Aramid and Polyamid fibers in a Jacquard weave over most of the upper. Four reinforced rigid fiber straps provide structural support. This combination of materials makes the entire upper stable, durable, breathable and impressively lightweight.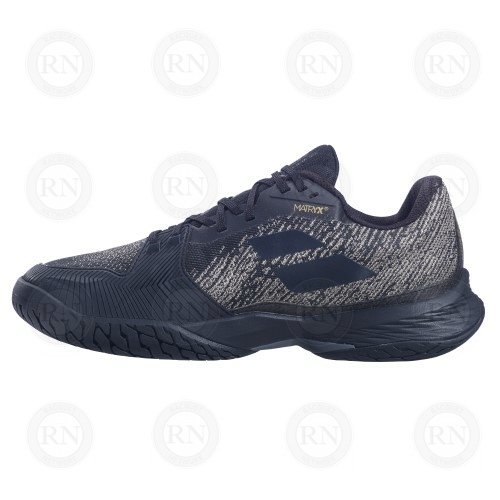 The Lacing system
The lacing system on this shoe features eight pairs of eyelets plus an additional lace-lock eyelet for those who need it. All eyelets are reinforced; the top two pairs are double-reinforced in order to prevent tearing by athletes who pull too hard on their laces when tying them. The laces are flat — which is less than ideal from an athletic point-of-view — but contributes to the overall sleek visual style of the shoe.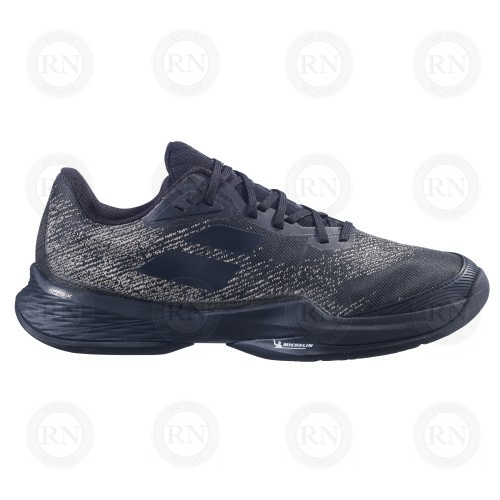 Technologies
---
MATRYX 2.0 Fabric Technology

The jacquard-woven Matryx® upper fabric combines the existing "Stability arch" system and high-strength Aramid and Polyamid fibers with a new, adapted yarn diameter and zero monofilaments for more elasticity/flexibility and comfort.
Matryx® EVO technology is designed for optimal balancebetween comfort, support and durability.
---
Babolat KPRS-X Feature

The KPRSX system provides optimal cushioning at each stage of the game. A softer, shock-absorbing EVA foam pad offers perfect heel protection for any support. The heel rocker enhances foot motion for better stopping/recovery transition. The result is unrivalled cushioning.
---
Michelin Active Flexion

The reengineered sole is more responsive to game demands. The outsole surface and thickness has been increased at pressure points for less abrasion and reduced at low impact points. The JET MACH 3 sole is still manufactured with Michelin Premium DIN20 technology for more durability and less wear and tear from specific tennis movements.
30S21629-1019
30S21629-2031
Product Details
| | |
| --- | --- |
| Offer Type | This offer must be purchased through the website |
| Item Type | Ships from e-commerce division 2 |
| Store Availability | This ecommerce website does not track in-store inventory, in-store offers, or in-store prices. That information is available in-store. |
| Brand | |
| Gender | Men |
| Sport | |
| Colours | Black/Gold, White/Silver |
| Shoe Size | US MEN 7, US MEN 7.5, US MEN 8, US MEN 8.5, US MEN 9, US MEN 9.5, US MEN 10, US MEN 10.5, US MEN 11, US MEN 11.5, US MEN 12, US MEN 12.5, US MEN 13 |
| Shoe Width | |
| Try Shoes On | If you want to try shoes on, order them and choose SHIP TO STORE. You will be notified by email when they are in-store so that you can go in and try them on. |