Description
Babolat ™ Pulsion Junior All Court Tennis Shoes
The Brand
Babolat is a French company that has been around since 1875. Over the past 25 years, their outdoor court shoes have consistently improved in quality.

In part, this is because they have partnered with Michelin — also a French company — to develop one of the best out-soles for tennis and pickleball.

Traditionally, tennis players have had to choose between durability without comfort (Adidas) and comfort without durability (Nike). In the past decade, however, Babolat and Michelin have combined to develop a sole that offers sufficient durability with reasonable comfort. This blend gives up a bit on the durability side, but it adds comfort to every step the athlete will take in their shoes. At the same time, this blend ensures that athletes will get sufficient mileage before having to buy a new pair of shoes.
The Category
This court shoe is in our Teen Transition category. Shoes in this category NOT are suitable for continuous use over prolonged periods of time. They are designed for teens who will probably outgrow their shoes before they wear them out. Shoes in this category are all about saving money for parents of growing teens.
The Insole
This is a basic shoe with a basic insole. As with all athletic shoes, players should monitor wear on their insoles over time and expect to replace the insoles at about the halfway point in the life of the shoe.
The Shape
We describe this shoe as a D width with a standard toe taper. D-width is standard-width for men's shoes and wide-width for ladies. Standard taper shoes tend to fit younger athletes better than older athletes because forefeet tend to widen over time.
As always, the best advice we can give you is to come into our store for a fitting before buying any new court shoes. As we age and as we engage/disengage in athletics, our feet change shape. On average, a player's foot size increases by one and one-half sizes between the ages of 16 and 60. During this period, feet also widen by one to two widths. As a result, we have learned that the most common cause of foot pain in our athletes is that they are wearing shoes that are too small. Because their feet have changed so gradually over time, they have not noticed it. By coming in for a fitting, players can be sure they are buying the right size and shape for their feet right now.
The Outer Sole
The outer sole of this shoe is a hard non-marking synthetic rubber (Michelin DIN 35). This type of sole offers reasonable durability on acrylic tennis/pickleball courts and reasonable traction on most common surfaces — except hardwood and polished concrete. Although wear patterns will vary from athlete to athlete, we rate this sole at 300-500km.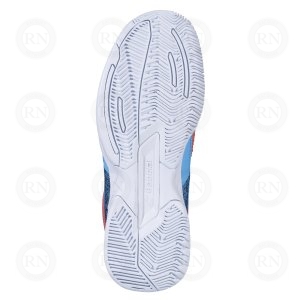 The Platform
We rate the platform of this shoe as recreational, which is is our middle rating for court shoe platforms. The platform on this shoe is wide enough for casual/recreational use.
The Ride
This shoe features a high cushioning EVA heel pad for an enhanced ride. However, this is an athletic shoe for younger players not a highly cushioned "comfort" shoe for older athletes.
The Upper
The upper on this shoe is primarily perforated polyurethane leather.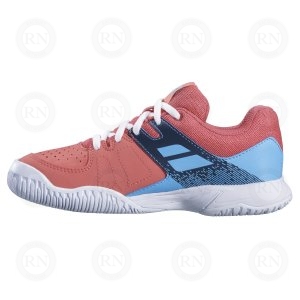 The Lacing system
The lacing system on this shoe features six pairs of eyelets plus an additional lace-lock eyelet for those who need it. The bottom three eyelets are punched; the top three are reinforced. The laces are half-round, which is the best shape for court shoes.
Product Details
| | |
| --- | --- |
| Gender | Juniors |
| Brand | |
| Sport | |
| Grade | Junior Transition |
| Colours | Blue, Pink |
| Shoe Size | US YOUTH 9.5, US YOUTH 10.5, US YOUTH 11.5, US YOUTH 12.5, US YOUTH 13.5, US YOUTH 1, US YOUTH 1.5, US YOUTH 2, US YOUTH 2.5, US YOUTH 3, US YOUTH 3.5, US YOUTH 4, US YOUTH 4.5, US YOUTH 5, US YOUTH 5.5, US MEN 6, US MEN 6.5, US MEN 7, US Ladies 4.5, US Ladies 5, US Ladies 5.5, US Ladies 6, US Ladies 6.5, US Ladies 7, US Ladies 7.5, US Ladies 8, US Ladies 8.5 |
| Shoe Width | |
| Item Type | Ships from e-commerce division 2 |
| Try Shoes On | If you want to try shoes on, order them and choose SHIP TO STORE. You will be notified by email when they are in-store so that you can go in and try them on. |