Description
Babolat ™ RNGD Touch Pickleball Paddle
The Brand
Babolat is a French company that has been around since 1875, when Pierre Babolat created the first strings made of natural gut. In 1994, Babolat expanded beyond strings to become a total racquet sports company whose products are used by professional players in a variety of racquet sports.

The Series
Babolat currently offers three different lines of pickleball paddles: RBEL, RNGD and MNSTR. The RBEL series is for players who play a power game and want a heavier paddle both to enhance their power and to extend their paddle durability. The RNGD series nearly identical, with a fiberglass face. The MNSTR series offers a thick, lighter board than either the RBEL or the RNGD series.
Our Description
Based on feedback from players who have been playtesting this paddle in our demo program, this is the best racquet Babolat is making right now — in spite of the fact that it is not their most expensive. It has a 15mm board covered by a fiberglass face. This combination is the best all around combination for paddles in the all-purpose category.
---
Racquet Demo Program

DEMO PROGRAM
Racquet Network's pro shop carries a large selection of badminton, tennis, squash, pickleball and racquetball racquets for our customers to try. Customers may book an EXPRESS SERVICE APPOINTMENT to visit the store in person and find out more.
---
Help Choosing Pickleball Paddles

Need help choosing a tennis pickleball paddle? Make an appointment to visit our store and talk to our friendly and knowledgeable staff. If you can't do that, try our RACQUET SELECTOR.
---
Manufacturer's Description
It's fun to play with your friends … and it's really fun to win. If you're looking for controllable power, stability, and accuracy from your paddle, the RNGD Power is a must try.
---
Paddle Specifications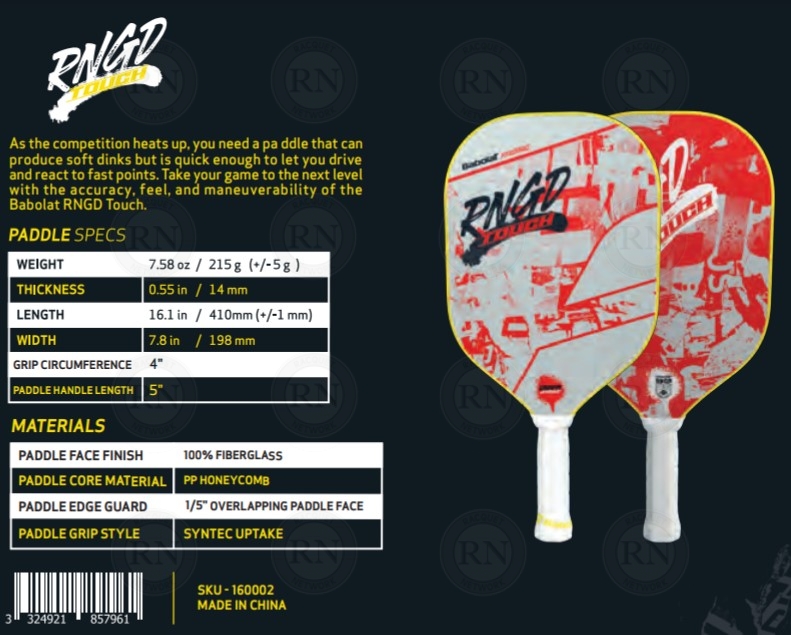 Product Details
| | |
| --- | --- |
| Sport | |
| Brand | |
| Balance | |
| Finished Weight | 215g/7.6oz |
| Warranty | 1 year |
| Item Type | Ships from e-commerce division |
| Format | Fiberglass Face, Polymer Core |
| Grip Size | |