Description
Babolat ™ Shadow Tour
The Brand
Babolat is a French company that has been around since 1875. Over the past 25 years, their court shoes have consistently improved in quality.

In part, this is because they have partnered with Michelin — also a French company — to develop one of the best out-soles for indoor court sports.

At the moment, the experts on our staff consider this to be the best overall indoor court shoe in the industry. It is a bit heavy for badminton players who use the jump smash a lot, but it is an outstanding shoe for squash, pickleball and racquetball.
Squash players please note that our experts consider this be the best shoe for squash in spite of the fact that Babolat does not sponsor a single professional squash player. We consider this the best shoe simply because it is genuinely the best squash shoe we have ever seen.
The Category
This court shoe is in our Adult Performance category. Shoes in this category are suitable for continuous adult use over prolonged periods of time. On average, players tend to move about 3 kph while playing doubles racquet sports and about 4 kph while playing singles. So you can get an idea of how long this shoe should last by figuring out how many hours you play per week on average. Please note: this is an average. Some players are extremely hard on shoes and will have to take that into account.
The Insole
This shoe features an upgraded Otholite insole that is better than we expect to see in comparable shoes. As with all athletic shoes, players should monitor wear on their insoles over time and expect to replace the insoles at about the halfway point in the life of the shoe.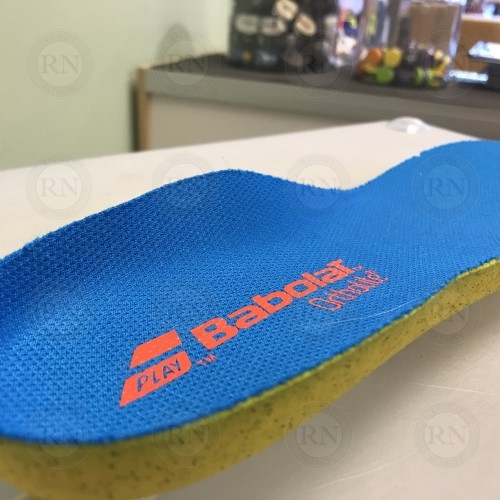 The Shape
We describe this shoe as a D width with a standard toe taper. D-width is standard-width for men's shoes and wide-width for ladies. Standard taper shoes tend to fit younger athletes better than older athletes because forefeet tend to widen over time.
As always, the best advice we can give you is to come into our store for a fitting before buying any new court shoes. As we age and as we engage/disengage in athletics, our feet change shape. On average, a player's foot size increases by one and one-half sizes between the ages of 16 and 60. During this period, feet also widen by one to two widths. As a result, we have learned that the most common cause of foot pain in our athletes is that they are wearing shoes that are too small. Because their feet have changed so gradually over time, they have not noticed it. By coming in for a fitting, players can be sure they are buying the right size and shape for their feet right now.
The Outer Sole
The outer sole of this shoe is a soft, organic rubber that heats up and provides additional traction as the player moves around the court. This type of sole offers maximum traction on hardwood floors. Although wear patterns will vary from athlete to athlete, we rate this sole at 1000+ km.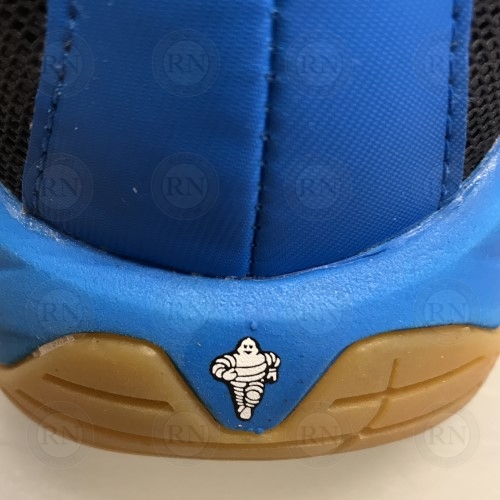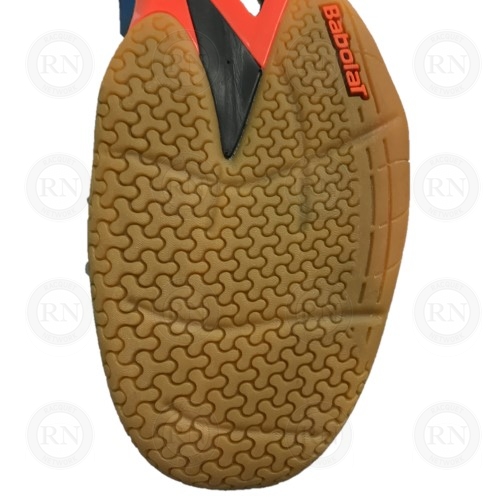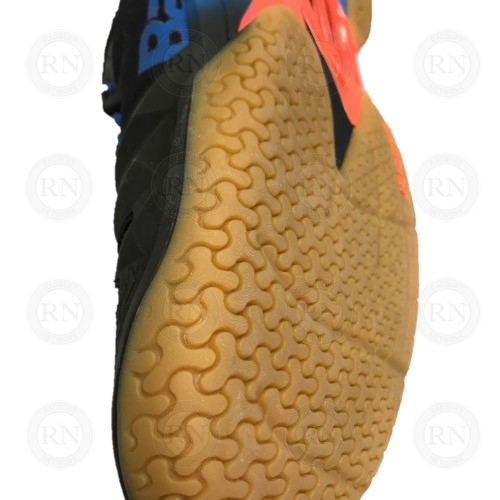 The Platform
We rate the platform of this shoe as athletic, which is is our highest rating for court shoe platforms. The platform on this shoe is wide enough and stable enough for aggressive athletic movements in all directions.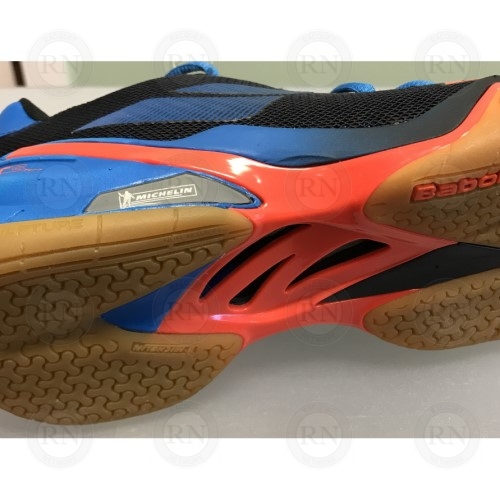 Ride
This shoe features a high cushioning EVA heel pad for an enhanced ride. However, this is an athletic shoe for younger players not a highly cushioned "comfort" shoe for older athletes. Older players who want to enhance the ride of this shoe can do so by upgrading it with custom insoles.
The Upper
The upper on this shoe combines polyurethane leather (on the lace line) with ultra-durable Kevlar® and polyamide fibers over most of the remaining upper. Four reinforced rigid fiber straps provide structural support. This combination of materials makes the entire upper stable, durable, breathable and impressively lightweight.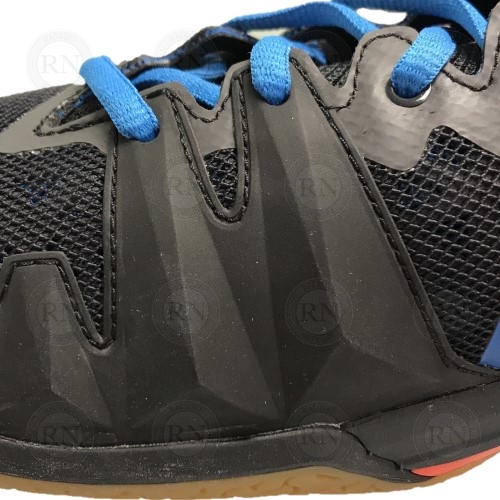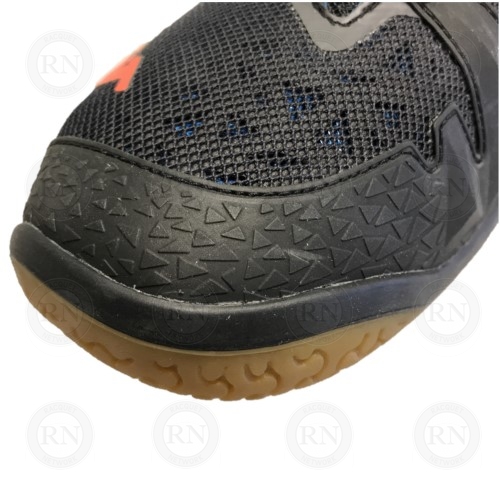 The Lacing system
The lacing system on this shoe features six pairs of eyelets plus an additional lace-lock eyelet for those who need it. The bottom two eyelets are punched; the top four are reinforced which is exactly what most squash players want. The laces are half round, which is the best overall lace for high performance athletic shoes.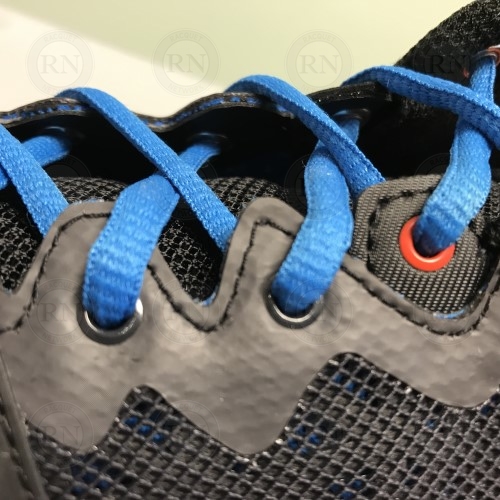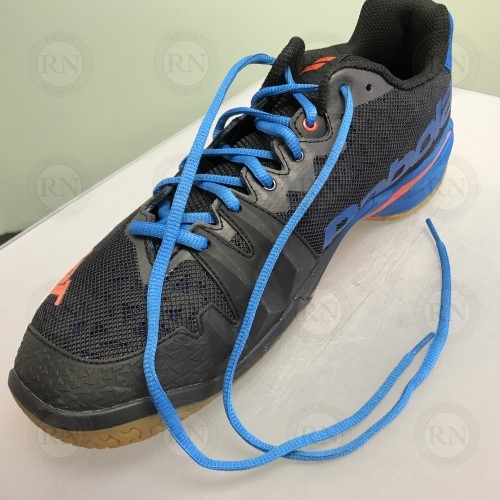 Product Details
| | |
| --- | --- |
| Gender | Men |
| Brand | |
| Sport | Badminton, Crossminton, Dodgeball, Floor Hockey, Floorball, Handball, Pickleball (Indoor), Racquetball, Squash, Table Tennis, Volleyball, Walleyball |
| Grade | Adult Performance |
| Shoe Size | US MEN 7, US MEN 7.5, US MEN 8, US MEN 8.5, US MEN 9, US MEN 9.5, US MEN 10, US MEN 10.5, US MEN 11, US MEN 11.5, US MEN 12, US MEN 13 |
| Shoe Width | |
| Colours | Black, Blue, Red, White |
| Item Type | Ships from e-commerce division 2 |