Description
---
About the Brand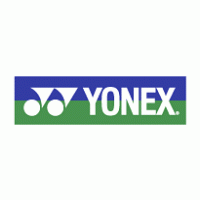 Yonex is a Japanese sporting goods manufacturer famous for exceptional manufacturing quality. Established in 1946, they manufactured their first badminton racquet in 1957 and their first tennis racquet in 1968. In the years since their founding, Yonex has developed a reputation for unparalleled innovation and quality. Their reputation has been further enhanced by a sponsorship program that features some of the top players and teams in the world. They are also highly visible as sponsors for some of the world's top tennis and badminton tournaments.
While most manufacturers focus on sponsoring celebrity athletes and developing high intensity marketing campaigns to convince consumers to purchase new products, Yonex has tended to focus more on innovation and improvement through research and development. In fact their patented isometric racquet shape, first released in 1980, is still considered to be one of the most important and lasting innovations in tennis and badminton. This innovative racquet shape still figures heavily in virtually all Yonex racquet designs.
---
About the Series

The Ezone series of tennis racquets is all about generating comfortable power. Aimed primarily at recreational tennis players who are not professional athletes, the Ezone series has an enhanced sweet spot for additional power and enhanced anti-vibration features for additional comfort.
This current version of the EZONE series features the largest sweet spot in the series' history. By widening the racquet at the 3 and 9 o'clock positions and varying the angles of the aero-shaped frame, there is a plush, more comfortable feel at impact, even on off-centered shots.
Also focusing on comfort, the EZONE has M40X* — a high strength, high elastic graphite in the throat — to improve frame stability and flex. It also features Vibration Dampening Mesh (VDM) in the handle to filter out unwanted vibrations.
---
Planned Obsolescence
"Planned obsolescence, or built-in obsolescence, in industrial design and economics is a policy of planning or designing a product with an artificially limited useful life, so that it becomes obsolete (i.e., unfashionable, or no longer functional) after a certain period of time. The rationale behind this strategy is to generate long-term sales volume by reducing the time between repeat purchases (referred to as "shortening the replacement cycle")." [Wikipedia]
Virtually all racquet brands these days have a plan to make new racquets obsolete long before they even come out. Since planned obsolescence is built into racquets, we believe that customers have a right to know when the racquet that they are buying is expected to become obsolete.
Some brands plan to make their new racquets obsolete less than two years after they are released. Racquet Network considers this irresponsible. While we cannot force the racquet sports industry to do away with planned obsolescence, we can refuse to offer brands with the shortest cycles. For example, Racquet Network does not sell some very major brands precisely because they make new racquets obsolete in two years or less.
Yonex is currently on a 30-month cycle. A new racquet launches. About six months later a second colour comes out. Six months after that a third colour may come out. Then after 30 months, the current generation is replaced by a new generation and the old racquets are considered (by Yonex) to be obsolete.
In this case, the sixth generation of Ezone series tennis racquets was released during the 2020 Australian Open. If Yonex follows their usual marketing cycle, a seventh generation of this series will be released in mid-2022. Between these dates customers can expect one to three new colorways to be released. It is important to understand that these are not new racquets; they are simply new colors intended to provoke customers into buying something new.
---
Manufacturer's Description
Ezone Ace is for beginners to intermediate players looking for power and comfort.
---
Our Description
The Ezone Ace is a pre-strung doubles racquet that can also be used by beginners as a game improver racquet. The weight of this racquet makes it suitable for most ladies and/or juniors. It may also be suitable for recreational level men. Compared to standard racquets, the Isometric shape of Yonex racquets offers a sweet spot that is at least 7% larger. This shape benefits recreational players who do not play regularly and therefore may not have perfect timing.
---
Who Would use this Racquet?
This racquet is in our doubles tennis category. Our assumption, therefore is that it will be used primarily by recreational doubles players. However, racquets of this size are also often called "game improver" racquets because they are more forgiving than all purpose racquets or singles racquets. So this racquet could also be used effectively for singles by players who are learning how to to play tennis.
---
Racquet Demo Program

DEMO PROGRAM
Racquet Network's pro shop carries a large selection of badminton, tennis, squash, pickleball and racquetball racquets for our customers to try. Customers may book an EXPRESS SERVICE APPOINTMENT to visit the store in person and find out more.
---
Help Choosing Tennis Racquets

Need help choosing a tennis racquet? Come into our store and talk to our friendly and knowledgeable staff. If you can't do that, try our RACQUET SELECTOR.
---
How to String this Racquet
This racquet is in our doubles category. However, it is also in our game improver category. Therefore how you choose to string it will depend on how you are using it, how old you are, how hard you hit and a number of other factors. Your best option is to visit us in-store and have a discussion with a stringing expert. We can help you pick the best option for your game.
---
Specifications for this Racquet
Head Size: 102 sq.in.
Weight: 260g / 9.2oz
Grip Size: 1-4 Length: 27.0 in.
Width Range: 24.0mm / 26.5mm / 23.0mm
Balance Point: 345mm
Material:
– Graphite
Rec. String: POYLTOUR DRIVE, TOUR SUPER 850, DYNAWIRE
Stringing Pattern: 16×19
Stringing Advice: 40-55 lbs.
Made in: China
---
Technology in this Racquet
---
New Isometric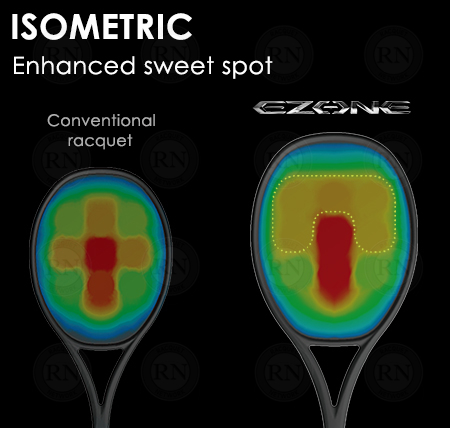 Developed over 30 years ago, the ISOMETRIC design increases the sweet spot by 7%. Compared to a conventional round frame, a square-shaped ISOMETRIC racquet generates a larger sweet spot by optimizing intersecting main and cross strings.
Yonex has improved the ISOMETRIC technology further by expanding the four corners of the new EZONE for longer main and cross strings in the upper frame, resulting in the largest sweet spot in the EZONE series history.
---
Aero Shape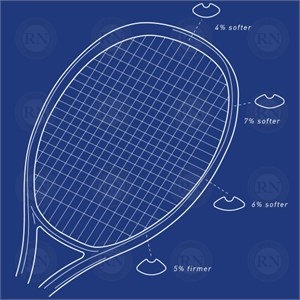 For a plush, comfortable feel
By varying the outer angle of the aero-shaped frame, the middle and upper hoop are plush, while the lower hoop is stable.
---
Oval Pressed Shaft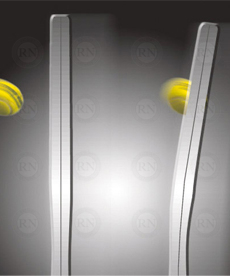 Increased spin and control
Shaft corners are rounded for an ideal flex at impact to increase dwell time for optimal spin and directional control.

No posts found.

Product Details
| | |
| --- | --- |
| Sport | |
| Stroke Style | |
| Player Type | Defensive |
| Grade | Adult Recreation |
| Grip Size | |
| Game Group | Singles & Doubles |
| Frame Flex | |
| Frame Weight | 260g/9.2oz |
| Length | |
| Balance | |
| Head Size | 102 sq in (658 sq cm) |
| Pattern | |
| Recommended Tension | 40-55 lbs (18-25 kg) |
| Age Group | |
| Brand | |
| Format | Pre-strung |
| Item Type | Ships from e-commerce division 2 |
| Warranty | 6 months |