Description
YONEX EZONE DR 100 TENNIS RACQUET
Yonex's newest tennis racquet is here: Command the court with EZONE DR. Breaking the mould with the world's first tennis racquet to feature premium grade NANOMETRIC DR carbon graphite, the EZONE DR gives players increased flex and repulsion plus a larger sweet spot for dynamic power.
FEATURES
– Isometric shape maximizes size of sweet spot
– Aero shape
– Shockless grommets at the bottom of the frame reduces impact vibration.
– YONEX O.P.S (Oval Pressed Shaft) manufacturing technology builds the ideal amount of shaft flex at impact into the racquet, extending dwell time for enhanced ball spin and directional control.
– The Super Cushion Grip minimizes vibration. The cushioning performance of the grip helps protect the wrist, forearm and elbow against shock-induced injuries.
SPECIFICATIONS
Head Size: 100 sq.in.
Weight: G: 300g/10.6oz, LG: 285g/10.1oz
Grip Size: G1,2,3,4 / LG1,2,3,4
Length: 27.0 in.
Width Range: 23.0mm / 26.0mm / 22.0mm
Balance Point: G:320mm, LG:325mm
Colour(s):
– Blue
– Lime
String: POLYTOUR FIRE 125, POLYTOUR PRO125, ATG850P
Stringing Pattern: 16/19
Material: H.M. Graphite, NANOMETRIC DR
Stringing Advice: 45-60 lbs.
MADE IN JAPAN
---
Racquet Demo Program

LARGE SELECTION OF DEMO RACQUETS
Racquet Network's pro shop offers Calgary's largest selection of badminton, tennis, squash, pickleball and racquetball racquets for customers to try. Book an EXPRESS SERVICE APPOINTMENT to visit the pro shop in person and find out more.
---
We are Racquet Stringing Experts
---
Yonex Stringing Team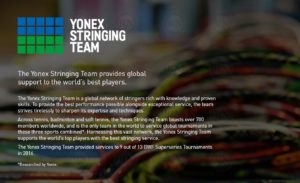 Racquet Network is a member of the prestigious Yonex Stringing Team. We are invited to string at elite tennis and badminton events. While we cannot attend every event we are invited to, we do our best to help out when such events are in Alberta.
Product Details
| | |
| --- | --- |
| Brand | |
| Sport | |
| Grade | Adult Performance |
| Game Group | Singles & Doubles |
| Player Type | Mixed |
| Stroke Style | |
| Format | Customized |
| Length | |
| Grip Size | |
| Head Size | 100 sq in (645 sq cm) |
| Balance | |
| Frame Flex | |
| Frame Weight | LG (285g/10.1oz), G (300g/10.6oz) |
| Finished Weight | 303g/10.7oz, 318g/11.2oz |
| Pattern | |
| Recommended Tension | 45-60 lbs (20-27 kg) |
| Cover | Full cover |
| Item Type | Ships from e-commerce division 3 |
| Warranty | 6 months |