Description
What is the Difference between Mavis 300 and 350?
Mavis 300 and 350 are both nylon shuttlecocks with natural cork noses. The Mavis 350 has fins that cause the shuttlecock to spiral in a manner similar to traditional feather shuttles. Mavis 300 does not have these fins.
Our Description
Mavis 300 features a natural cork nose and a durable nylon skirt. It also has fins that cause it to spiral more like a feather shuttlecock. The Mavis 300, by contrast, lacks this feature.
Online sales by the case. Individual tubes may be available in-store. Please visit the store for more information.
DESCRIPTION
The combination of close-to-feather shuttlecock flight performance and four to five times more durability than an ordinary nylon shuttlecock makes the YONEX MAVIS series the most cost-effective choice for practice sessions.
SHUTTLECOCK SPEEDS
Players should always use the shuttlecocks best suited to the playing environment. The hardness of the skirt – the feather part of the nylon shuttlecock – varies depending on temperature. In the cold, as the skirt becomes hard, it is prone to breaking. In the heat, the skirt becomes softer and less likely to break, but the feel at impact is affected by the softer skirt.
YONEX manages product quality by categorizing MAVIS into 3 temperatures. Please ensure that you choose the shuttlecock best suited to the playing environment.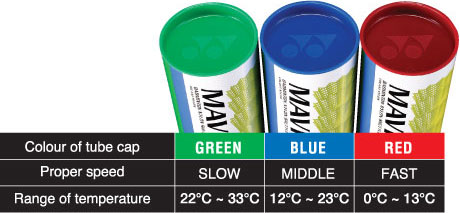 SHUTTLECOCK RECOVERY TIME
When smashed, a MAVIS shuttlecock recovers in only 0.02 seconds. This performance is just 0.005 seconds slower than a YONEX Feather shuttlecock and 0.008 seconds faster than the recovery of an ordinary shuttlecock.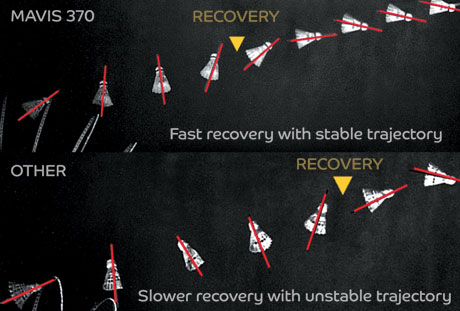 FLIGHT PATTERN
Developed using the flight timing of feather shuttlecocks, MAVIS Nylon shuttlecocks are precision designed and manufactured to provide accurate flight performance.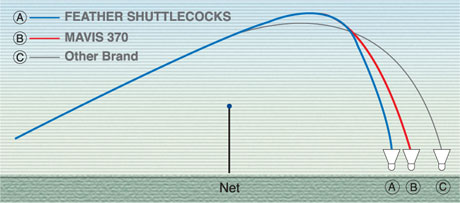 Product Details
| | |
| --- | --- |
| Offer Type | This offer must be purchased through the website |
| Item Type | Ships from e-commerce division |
| Store Availability | This ecommerce website does not track in-store inventory, in-store offers, or in-store prices. That information is available in-store. |
| Speed | Green, Blue, Red |
| Color | Yellow, White |
| Brand | |
| Sport | |