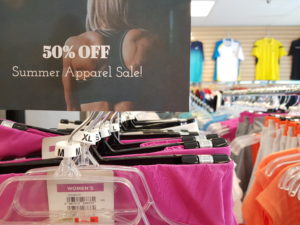 Since moving into our new location in the gorgeous community of Woodbine, Racquet Network has been able to offer more athletic wear of different styles, colors, and sizes. With summer already begun, our first ever Summer Apparel Clearance Sale is well in motion, where customers can get premium ladies and junior Wilson apparel for 50% off or more. Dozens of tank tops, tee-shirts, capris, hoodies, and skorts of a variety of colors and styles qualify for this big sale.
"It's a very exciting time," says Coach Gene, our in-store sales expert and coordinator of the Summer Sale, "our staff have spent a lot of time over the past three weeks gearing up for this sale, marking items down and displaying them in our apparel section, and now that it has begun, we have people coming in everyday to check out what we have in store for them."
It's not just racquet sports players coming in to check out the summer sale either. "A lot of people think we sell strictly racquet sports apparel," adds Coach Gene, "what you'd be surprised to learn is that our apparel is very versatile, and can be used for almost any athletic activity, from running and walking to yoga and spin class."
For a limited time, get 50% or more off select Wilson ladies and junior apparel, suitable for almost any athletic activity. Stop by our store in Woodbine to browse our full selection and take advantage of this great offer.