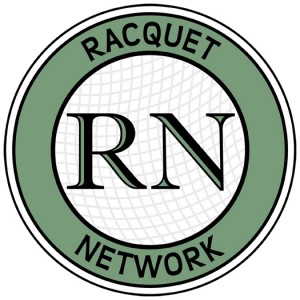 [CALGARY, AB] – It's hard to believe but Racquet Network launched five years ago today as a network of two Canadian squash players from the community of Oakridge in southwest Calgary.
Today, on the fifth anniversary of those small beginnings, we have more than 500 members in Canada, the United States, Australia and China. We also include much more than just squash. This year we have added nearly a dozen new sports to our long-time mix of tennis, squash, badminton, racquetball and table tennis.
The origins of our growing network can be traced to a broken-down old squash court in the back of the Oakridge Community Centre in January of 2002. Built twenty-five years earlier when squash was a booming sport, the court had long since been abandoned by squash players. Its only use, in 2002, was as a tiny gym for the tots of the community centre preschool.
Nothing is better testimony to the rough state of this court than the fact that the plywood of the front wall was slowly disintegrating. Every time a ball hit it with any amount of force, a small cloud of disintegrated wood dust would puff into the air. By the end of every match, the air in the room was visibly saturated with dust particles. At times it looked like we had spent the past hour smoking cigars instead of playing squash.
By the end of our first year, a wide, crumbling depression had formed in the front wall around the spot where serves would typically make contact. But our little network had grown to 26 squash players, so we considered the year a success.
In year two, we added tennis to our activities and our network swelled to 75 players. Meanwhile, the depression in the front wall of the squash court was spreading like a giant stain. Small holes, just large enough to poke a finger through, were beginning to appear and multiply.
That was enough for the facility manager. Earlier attempts to repair the front wall had failed; it was time for a new wall. With the new wall came new players, fortunately. So we ended year three with a network of 150 squash and tennis players, most of whom lived in southwest Calgary.
Today, Racquet Network has enough squash players in Calgary (250) to fill five squash courts. We have enough tennis players (350) to fill seven tennis courts. As a result, the Oakridge Community Association has applied for funding to build eight new lighted outdoor tennis courts and six new international squash courts.
Racquet Network has also contributed to the revival of squash at the Southland Leisure Centre and the Acadia Recreation Complex. Use of the squash courts at these facilities has increased significantly in the past 24 months, thanks primarily to Racquet Network members.
On the badminton front, Racquet Network is now working cooperatively to boost the numbers of the Kingsboro Badminton Club, Calgary's oldest badminton club. We are also working with Racquetball Alberta to increase the number of people playing that sport in Calgary. And we are doing our best to work with Tennis Alberta and the inchoate Calgary Tennis Association to promote involvement in grassroots tennis.
Alongside the development of playing opportunities, Racquet Network has helped grow the number of racquet sports coaches working in the Calgary area. In the fall, we had a dozen people lined up to become PTR tennis instructors. Two months, later, three of our members were trained by Squash Alberta as Level One squash instructors. Next month, February, will see at least two more of our members trained as squash coaches.
Has our network been successful? I would like to think so.
I now run into Racquet Network players everywhere I go. I see them on tennis courts and squash courts and badminton courts all over Calgary. In the summer, I see groups of students taking lessons from Racquet Network tennis instructors. During the winter, I see some of the same students attending squash lessons and programs with our instructors at the Acadia Recreation Complex.
In spite of the fact that Racquet Network is a for-profit enterprise, we have never made a profit nor have we have ever issued a pay cheque to an employee. Over the first five years of our existence, it has been our pleasure to act as promoters and cheerleaders for the sports we love to play.
The only people to profit in all of this have been our members, many of whom are living healthier, richer lives because of what we have all created by working and playing together.
Happy anniversary, everyone!! We hope you will stick around for the next five years. It has been wonderful meeting and getting to know each and every one of you.