Description
Ashaway Ultranick 18 Squash String
Our Description
Ashaway Ultranick 18 is a thin, powerful, textured multifilament squash string. Like most Ashaway squash stings, it is exceptionally durable. In this case, it is an exceptionally durable for an 18 gauge string.
Like most 18 gauge strings, we tend to recommend Ashaway Ultranick 18 to players who typically benefit from the additional power provided by a thinner gauge string, which is younger juniors, ladies and older men.
Manufacturer's Description
Usage: Top professional and amateur players
Tremendous power and resilience with softer feel of Zyex multifilaments. Excellent tension stability at all tensions. Players looking for softer playing string with excellent power and control
Use 10-15% less tension than on traditional nylon strings.
Specifications
Gauge:
– 17 (1.25mm) – Maximizes durability and string life.
– 18 (1.15mm) – Maximizes softer feel and control.
---
Racquet String Categories
The are several categories of racquet string. Each has pros and cons. For a summary that hits on the main features of each category, please refer to our Racquet String Categories Guide.
---
String Gauge Guide
Racquet strings come in a variety of gauges each of which has pros and cons. For a better understanding of gauges, please see our Racquet String Gauge Guide.
---
We are Racquet Stringing Experts
---
Yonex Stringing Team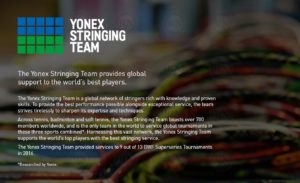 Racquet Network is a member of the prestigious Yonex Stringing Team. We are invited to string at elite tennis and badminton events. While we cannot attend every event we are invited to, we do our best to help out when such events are in Alberta.
Product Details
| | |
| --- | --- |
| Sport | |
| Format | String Set |
| String Type | |
| String Gauge | |
| Diameter | 1.15mm |
| Colours | Blue |
| Brand | |
| Item Type | Ships from e-commerce division 3 |