Description
Babolat ™ Pure Drive Junior 25 Tennis Racquet
The Brand
Babolat is a French company that has been around since 1875, when Pierre Babolat created the first strings made of natural gut. In 1994, Babolat expanded beyond strings to become a total racquet sports company whose products are used by professional players in a variety of racquet sports.

The Series

Babolat offers four different racquet series of tennis racquets. The Pure Aero series emphasizes spin. The Pure Strike series emphasizes control. The Pure Drive series emphasizes power. And the Drive series emphasizes cost effectiveness.
Everything in the Pure Drive series of tennis racquets is geared toward the comfortable and effortless production of power. This is reflected in the shapes of the beams, the positioning of the grommets, the movements of the strings, and other details.
The Pure Drive series consists of eight different racquets of varying weights and sizes. The Pure Drive VS and the Pure Drive Tour are for singles players are the advanced and elite levels. The Pure Drive and the Pure Drive Team are all-purpose racquets for adults while the Pure Drive Lite and the Pure Drive Super Light are for juniors. Two other racquets in the series — the Pure Drive 107 and the Pure Drive 110 — are doubles racquets.
Our Description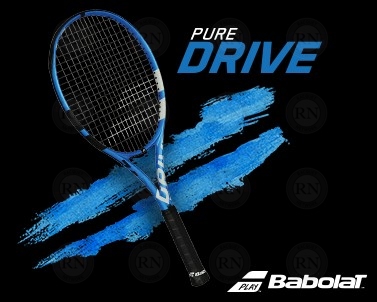 Pure Drive Junior tennis racquets are performance racquets for children. They are available in two length/grip size options.
---
Racquet Demo Program

LARGE SELECTION OF DEMO RACQUETS
Racquet Network's pro shop offers Calgary's largest selection of badminton, tennis, squash, pickleball and racquetball racquets for customers to try. Book an EXPRESS SERVICE APPOINTMENT to visit the pro shop in person and find out more.
---
Help Choosing Tennis Racquets

Need help choosing a tennis racquet? Come into our store and talk to our friendly and knowledgeable staff. If you can't do that, try our RACQUET SELECTOR.
---
---
Online Offer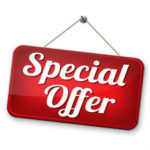 Customers who purchase select premium Yonex, Babolat or Tecnifibre tennis racquets online are offered
free string option
free installation option
free stenciling option
free shipping option
free racquet engraving
free racquet cover engraving
Customers who want this special offer must order online. This offer is not available in-store.
---
How to String this Racquet
How we string this racquet will depend on the size, weight and skill of the child. In most cases, a synthetic or multifilament string will be suitable for both the child and the racquet.
Under no circumstances would we suggest stringing either version of this racquet with poly or co-poly strings. The frame is not suitable nor is this string category suitable for children who would use it.
---
Racquet Specifications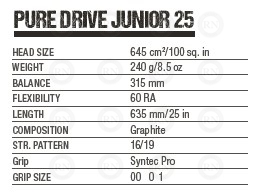 ---
Racquet Technologies
---
Cortex Pure Feel
Cortex Pure Feel Powered by SMAC has taken Babolat's signature anti-vibration technology to the next level. SMAC is an innovative French aerospace company that specializes in vibration analysis and reduction. If you have flown in a modern airliner, you have benefited from the same anti-vibration expertise that SMAC has applied to Babolat's premium tennis racquets. Most recently, Babolat has incorporated SMACWRAP® technology to develop Cortex Pure Feel. This vibration dampening technology is placed in the head of the racquet to enhance feel and comfort.
---
FSI Power
FSI is an acronym for Frame String Interaction. In Babolat's racquet technology universe, FSI is a major issue. In the newest Drive series of tennis racquets, Babolat has shifted the string placement to provide more density where it is needed. They have also tweaked the shapes of the grommets to provide an improved sweet spot that helps on all shots, including off-center hits. The combination of technologies is branded by Babolat as FSI Power.
---
GT Technology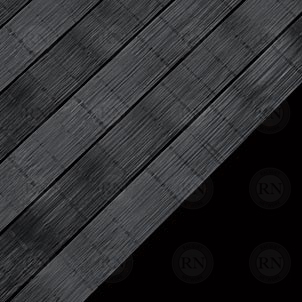 Babolat's GT Technology combines high density carbon fibers, giving the racquet head optimum strength which translates to greater power and increased control on any shots hit with maximum power.
---
Woofer System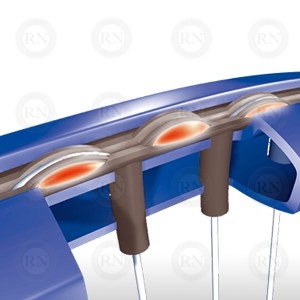 Babolat's Woofer System Technology increases the ball's dwell time on the string bed. More dwell time means more opportunities to manipulate the ball with either spin and/or energy. As a result players who have spin and/or power have more opportunities to use that spin and/or power.
---
Elliptic Beam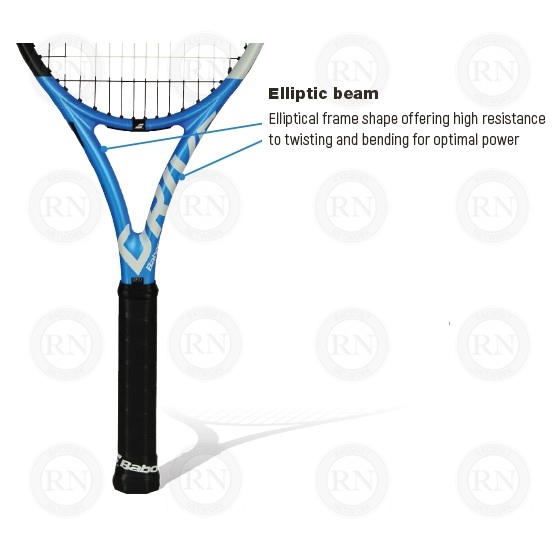 Elliptical frame shape offers high resistance to twisting and bending for optimal power.

No posts found.

Product Details
| | |
| --- | --- |
| Sport | |
| Brand | |
| Grade | Junior Performance |
| Game Group | Singles & Doubles |
| Age Group | |
| Player Type | Child |
| Stroke Style | |
| Format | Pre-strung |
| Length | |
| Grip Size | |
| Head Size | 100 sq in (645 sq cm) |
| Balance | |
| Frame Flex | |
| Frame Weight | 240g/8.5oz |
| Pattern | |
| Warranty | None |
| Item Type | Ships from e-commerce division 2 |