Description
The Egyptian method of squash racquet stringing allows for more consistent tension across the entire width of the string bed on hybrid-shaped squash racquets. This is achieved by varying the tension of the main strings according to the length of each string. Standard variance is 0.5 lbs per string, but players are welcome to increase or decrease variance increments plus or minus 0.1 lbs as they prefer.
Please note that this stringing method is only offered for hybrid shaped racquets, like the Tecnifibre Carboflex series. We do not offer this stringing method for any other shape. If you want to know if we can do your racquet using this stringing method, please bring it into our store for examination by an expert.
Quality Control
We check the calibration of our squash racquet stringing machine at the start of every shift. We digitally record most custom stringing jobs as part of our quality assurance process.
Expert Advice
Fine tuning string tension is not something that stringers can do with table top machines. If you want your racquet done with precision, bring it to us. We will take care of you.
Options
We offer two different options off the reel for squash players. Option 1 is durable string. Option 2 is playable string.
Durable string is for players who want their strings to last as long as possible. Playable string is for high level players who are less concerned with durability and more concerned with playability.
If you want something specific, we also offer more string set options than any other store in Calgary.
---
We are Racquet Stringing Experts
---
Yonex Stringing Team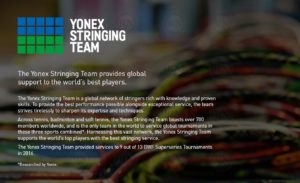 Racquet Network is a member of the prestigious Yonex Stringing Team. We are invited to string at elite tennis and badminton events. While we cannot attend every event we are invited to, we do our best to help out when such events are in Alberta.
Product Details
| | |
| --- | --- |
| Offer Type | This offer must be purchased through the website |
| Item Type | Service occurs in-store after being purchased online |
| Store Availability | This ecommerce website does not track in-store inventory, in-store offers, or in-store prices. That information is available in-store. |