Description
Tecnifibre ™ 305 Squash String Set – 18 Gauge
Our Description
Tecnifibre 305 is probably the most famous string in all of squash. More top players worldwide play with 305 than any other string because it is soft and playable.
Tecnifibre 305, however, is not famous for its durability. So players who are excessively hard hitters or who like to power server overhand are advised to go with a thicker version such as 16 gauge or to play with a different string altogether.
Our Description
The 16 gauge version of Tecnifibre 305 is recommended for frequent string breakers, club level pounders, and overhead servers.
The 17 gauge version of Tecnifibre 305 is recommended for skilled Interclub and tournament players at the C-level and above.
The 18 gauge version of Tecnifibre 305 is recommended for skilled older men, most ladies and most younger juniors.
The 17 and 18 gauge versions of this string are not suitable for older racquets with broken grommets or bumper guards. These gauges are also not suitable for racquets with open stringing patterns, such as Head.
Manufacturer's Description
SUPREME CUT EFFECT For traditional players. "The most popular squash string."
Specifications
50% Elastyl – 50% Polyamide fibres for dynamic performance and comfort. Pu400 for added comfort
Played by Alister Walker
---
Racquet String Categories
The are several categories of racquet string. Each has pros and cons. For a summary that hits on the main features of each category, please refer to our Racquet String Categories Guide.
---
String Gauge Guide
Racquet strings come in a variety of gauges each of which has pros and cons. For a better understanding of gauges, please see our Racquet String Gauge Guide.
---
We are Racquet Stringing Experts
---
Yonex Stringing Team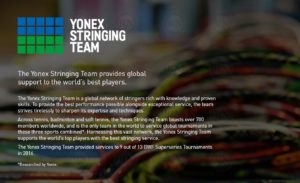 Racquet Network is a member of the prestigious Yonex Stringing Team. We are invited to string at elite tennis and badminton events. While we cannot attend every event we are invited to, we do our best to help out when such events are in Alberta.
Product Details
| | |
| --- | --- |
| Sport | |
| Format | String Set |
| String Type | |
| String Gauge | |
| Diameter | 1.10mm, 1.20mm, 1.30mm |
| Colours | Black |
| Brand | |
| Item Type | Discontinued |