Description
Tecnifibre ™ DNAMX Squash String Set – 18 Gauge
Our Description
DNAMX is the new version of the black 305+ which was discontinued in 2016. DNAMX is popular for high-end and professional squash players who want a string that gives them a blend of power and touch. In general, we advise men to play with the 17 gauge version while ladies and juniors are advised to choose the 18 gauge version.
Please note that DNAMX is one of the world's best squash strings. It is designed to perform extremely well under normal squash conditions and can withstand the forces generated by the world's top players.
Serving overhand and hitting every shot with excessive force is not normal in squash. Therefore this string is not designed to perform well under these conditions. Racquet Network does not recommend this string to players who serve overhand or to players who pound every shot.
Manufacturer's Description
Played by the World #1 Mohamed El Shorbagy. The Dynamics of power.
Specifications
Gauge:
– 18 (1.15 mm)
– 17 (1.25 mm)
Set Length: 9.7 m (32 ft.)
Reel Length: 200 m (656 ft.)
Colour: Black
---
Racquet String Categories
The are several categories of racquet string. Each has pros and cons. For a summary that hits on the main features of each category, please refer to our Racquet String Categories Guide.
---
String Gauge Guide
Racquet strings come in a variety of gauges each of which has pros and cons. For a better understanding of gauges, please see our Racquet String Gauge Guide.
---
We are Racquet Stringing Experts
---
Yonex Stringing Team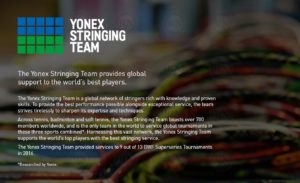 Racquet Network is a member of the prestigious Yonex Stringing Team. We are invited to string at elite tennis and badminton events. While we cannot attend every event we are invited to, we do our best to help out when such events are in Alberta.
Product Details
| | |
| --- | --- |
| Sport | |
| Format | String Set |
| String Type | |
| String Gauge | |
| Diameter | 1.15mm |
| Colours | Black |
| Brand | |
| Item Type | Ships from e-commerce division 3 |