Description
Tecnifibre ™ HDX Tour Tennis String – Eco Box – 17 Gauge
Box of 20 string sets. Total of 800'/244m.
Manufacturer's Description
The best string for racquets that weigh less than 300g. The last decade has seen a tremendous increase in players' physical and technical abilities, making it essential to be able to control the power and give more spin. Get more flexibility with the new polyuréthane strings. More power and less muscular fatigue at the same time. The feel of the Tour!
Performance:
– Multifilament
– Polyurethane
Manufacturer: Tecnifibre
Sport: Tennis
Type: Multifilament
Gauges: 16, 17
Colours: Natural
---
Racquet String Categories
The are several categories of racquet string. Each has pros and cons. For a summary that hits on the main features of each category, please refer to our Racquet String Categories Guide.
---
String Gauge Guide
Racquet strings come in a variety of gauges each of which has pros and cons. For a better understanding of gauges, please see our Racquet String Gauge Guide.
---
We are Racquet Stringing Experts
---
Yonex Stringing Team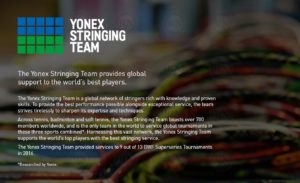 Racquet Network is a member of the prestigious Yonex Stringing Team. We are invited to string at elite tennis and badminton events. While we cannot attend every event we are invited to, we do our best to help out when such events are in Alberta.
Product Details
| | |
| --- | --- |
| Sport | |
| Format | Eco-Box |
| String Type | |
| String Gauge | |
| Diameter | 1.24mm |
| Colours | Natural |
| Brand | |
| Item Type | Ships from e-commerce division 3 |