Description
Yonex ™ Arcsaber 11 Tour Badminton Racquet.
Our Description
We thought the Arcsaber series was done. However, it appears as though Yonex has given up on their brilliantly overcomplicated Duora series and that they are returning to the Arcsaber series, which has performed so well for them in the past.
The Arcsaber 11 is now completely updated with several new versions including the PRO (for serious players), the TOUR (for recreational players) and the PLAY (for youth). The PRO version is made in Japan and features all of the technologies you would expect to find in a Japanese-made premium frame. The TOUR version is made in Taiwan and is pre-strung from the factory with Yonex Demo Gut. The PLAY version is made in China and is also pre-strung with Yonex Demo Gut.
---
Help Choosing Badminton Racquets

Need help choosing a badminton racquet? Come into our store and talk to our friendly and knowledgeable staff. If you can't do that, try our RACQUET SELECTOR.
---
Manufacturer's Description
Launching February 25, 2022
---
Racquet Specifications
---
Colours
The Arcsaber 11 Tour is currently available in one base color style: Grayish Pearl.
Flex
This is a stiff flex badminton racquet, which makes it suitable for big, strong, athletic athletes at the elite level. Most recreational players will find this frame too stiff to use effectively, especially on the corner-to-corner backhand clear.
---
Racquet Demo Program

TRY IT BEFORE YOU BUY IT
Racquet Network's pro shop offers several programs for customers who want to use our racquets or try new racquets before they buy them. Book an EXPRESS SERVICE APPOINTMENT to visit the pro shop in person for more information.
Materials
The loop of the Arcsaber 11 Tour is made of a mix of advanced materials that include High Modulus Graphite lined with Pocketing Booster. The shaft consists of High Modulus Graphite and Super HMG.
Available Weights / Grip Sizes
This racquet is being manufactured in a range of weights and grip sizes, but Yonex Canada is only bringing in the 4U version which weighs an average of 83 grams and is available in one grip size: G5.
Stringing Advice
Yonex recommends that the 4U version of the Arcsaber 11 Tour should be strung in the 19-27 lbs range. Players who need advice about stringing this racquet should booking an appointment to visit our store and consult with a stringing expert.
Unique Features
---
Larger Sweet Spot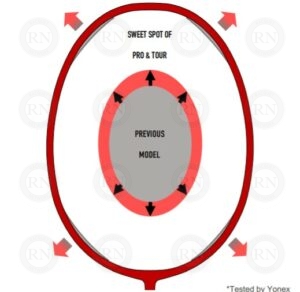 The new ARCSABER 11 has an expanded ISOMETRIC face in comparison to the previous
model. The expansion allows for a larger, more forgiving sweet spot.
---
Enhanced Arcsaber Frame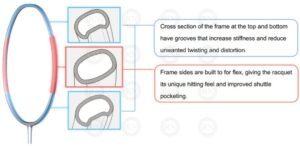 Control with confidence through this unique frame structure with varying levels of flex from top, sides, to bottom, built to increase shuttle hold while reducing instability and twisting at impact.
---
Pocketing Booster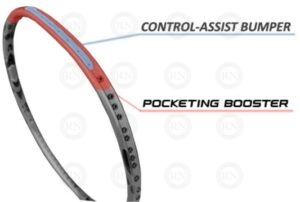 The frame is lined with POCKETING BOOSTER, a proprietary rubber-like material emphasizing elasticity in the frame's flex.
---
Control Assist Bumper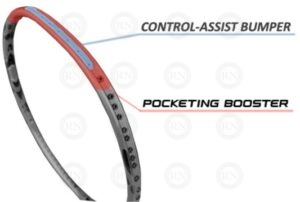 The CONTROL-ASSIST BUMPER attached at the top contains T-ANCHOR, micro-sized tetrapods that help lock in vertical strings for improved accuracy.
Racquet Technologies
---
Isometric Shape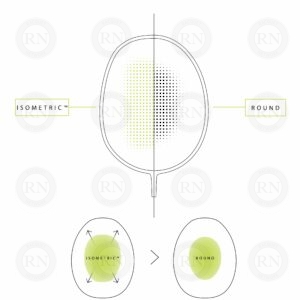 ISOMETRIC™ technology continues to help the world's greatest players achieve global success.
Developed over 30 years ago, the ISOMETRIC™ design increases the sweet spot by 7%*. Compared to a conventional round frame, a square-shaped ISOMETRIC™ racquet generates a larger sweet spot by optimizing the intersection of the main and cross strings.
ISOMETRIC™ delivers greater control without sacrificing power. ISOMETRICTM is a Trademark of Yonex CO., LTD.
*Tested by Yonex
---
Super Slim Shaft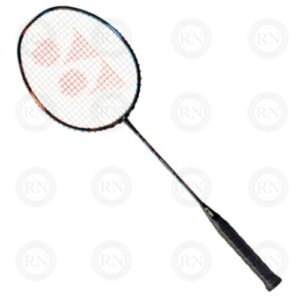 This is the slimmest shaft ever produced by Yonex. It vastly reduces air resistance whilst providing maximum feel.
---
Energy Boost Cap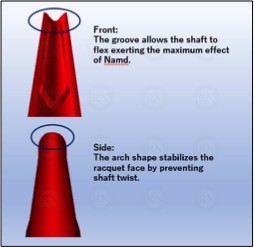 The new shape of the energy boost cap allows the shaft to flex, which ensures the maximum effect of "Namd (more flex and faster kick-back graphite material)" and stabilizes the racquet face by preventing the shaft twisting, increasing control
---
Yonex T-Anchor
A new composite material T-ANCHOR used in the T-joint helps reduce excess torque when hitting an off centre shot.
---
Super HMG
Made with super high modulus graphite.
---
Rexis
Rexis is a high-performance shaft precisely designed through and advanced molding technique with High-Quality, ingenuitive, Performance Graphite material.
---
Box Frame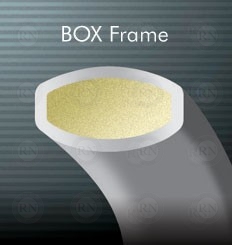 The box frame loop on this racquet contributes to its strength and power.
Expert Advice
Product Details
| | |
| --- | --- |
| Offer Type | This offer must be purchased through the website |
| Item Type | Ships from e-commerce division |
| Store Availability | This ecommerce website does not track in-store inventory, in-store offers, or in-store prices. That information is available in-store. |
| Sport | |
| Brand | |
| Length | |
| Grip Size | |
| Frame Flex | |
| Frame Weight | 4U (80-84g) |
| Warranty | 6 months |