Description
Yonex ™ BG70 Pro Badminton String
Our Description
BG70 Pro is one of Yonex' most durable string. It is designed for use with nylon shuttles. It is a popular string for institutions like schools and community centres who want maximum durability and don't want to have to restring racquets very often.
Yonex BG70 Pro is a great string for adult men who play with nylon shuttles and who break strings often. However, BG70 Pro is too stiff for most women, juniors and seniors. It is too stiff for players who weigh less than 150 lbs. It is too stiff for high- and medium-flex racquets. And it is too stiff for most 4U, 5U and F racquets.
In fact, we only recommend this string to two groups of people. The first group includes all people who want maximum durability and do not care about anything else. The second group includes big, strong, athletic men who tell us that they are frequent string breakers.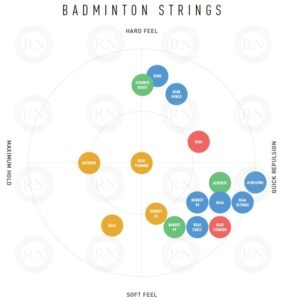 Manufacturer's Description
Superior tension-Holding properties. The braided oval-shaped fibre construction provides superior tension-holding properties while providing a solid feel.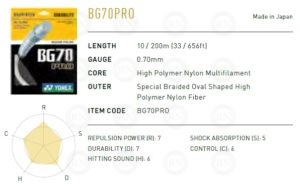 String Specifications
Material: MULTIFILAMENT
Length: 10m (33 ft)
Gauge: 0.70mm
Key Properties
– Durability
– Medium Feeling
---
Racquet String Categories
The are several categories of racquet string. Each has pros and cons. For a summary that hits on the main features of each category, please refer to our Racquet String Categories Guide.
---
String Gauge Guide
Racquet strings come in a variety of gauges each of which has pros and cons. For a better understanding of gauges, please see our Racquet String Gauge Guide.
---
We are Racquet Stringing Experts
---
Yonex Stringing Team
Racquet Network is a member of the prestigious Yonex Stringing Team. We are invited to string at elite tennis and badminton events. While we cannot attend every event we are invited to, we do our best to help out when such events are in Alberta.

No posts found.