Description
Yonex ™ BG80 Power Badminton String
---
Endorsed by: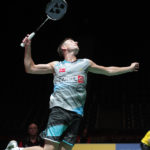 Our Description
Yonex BG80 Power is a multifilament that features a super-fine diameter for high durability and a soft feel on impact. It is the preferred string for the majority of competitive badminton players in Calgary who are playing with feather shuttles. While suitable for most players, big strong men who like to smash may find it lacks some durability.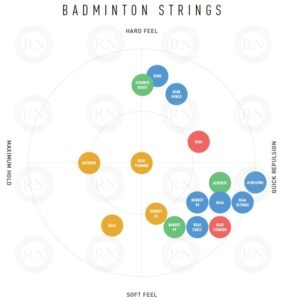 Manufacturer's Description
Quality with added power. The combination of Yonex original high-intensity nylon multifilament and high-modulus Vectran provides a solid feeling and powerful smash. For hard hitting players using feather shuttles.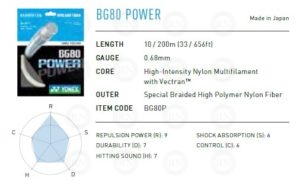 String Properties
Materials:
– High Polymer Nylon
– MULTIFILAMENT / VECTRAN
Length: 10/200m (33/656 ft)
Gauge: 0.68mm
Key Properties
– High Repulsion
– Hard Feeling
---
Racquet String Categories
The are several categories of racquet string. Each has pros and cons. For a summary that hits on the main features of each category, please refer to our Racquet String Categories Guide.
---
String Gauge Guide
Racquet strings come in a variety of gauges each of which has pros and cons. For a better understanding of gauges, please see our Racquet String Gauge Guide.
---
We are Racquet Stringing Experts
---
Yonex Stringing Team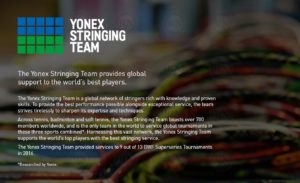 Racquet Network is a member of the prestigious Yonex Stringing Team. We are invited to string at elite tennis and badminton events. While we cannot attend every event we are invited to, we do our best to help out when such events are in Alberta.
No posts found.
Product Details
| | |
| --- | --- |
| Sport | |
| Format | String Set |
| String Type | |
| String Gauge | |
| Diameter | 0.68mm |
| Colours | Orange, White |
| Brand | |
| Item Type | Ships from e-commerce division 3 |