Description
Yonex ™ Nanogy 99 Badminton String
Our Description
Nanogy 99 was specifically designed to enhance hairpin net shots when players are using feather shuttles that have natural cork covered with leather. The ultra thin string and special nylon coating bite into the leather/cork and allow skilled players to execute hairpin net shots. This string is not suitable for smashers. It is not suitable for use with nylon shuttles because it is easily cut by the rigid nylon in the skirt.
Manufacturer's Description
YONEX original rough braided fibre and a special nylon coating provide maximum bite on the shuttle for enhanced hairpin net shots and cuts.
String Properties
Material: HIGH-INTENSITY MULTIFILAMENT NYLON
Length: 10m (33 ft)
Gauge: 0.69mm
Color: White
Key Properties
– Control
– Medium Feeling
---
Racquet String Categories
The are several categories of racquet string. Each has pros and cons. For a summary that hits on the main features of each category, please refer to our Racquet String Categories Guide.
---
String Gauge Guide
Racquet strings come in a variety of gauges each of which has pros and cons. For a better understanding of gauges, please see our Racquet String Gauge Guide.
---
We are Racquet Stringing Experts
---
Yonex Stringing Team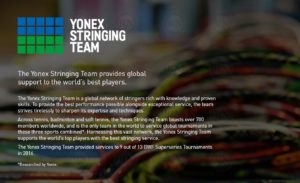 Racquet Network is a member of the prestigious Yonex Stringing Team. We are invited to string at elite tennis and badminton events. While we cannot attend every event we are invited to, we do our best to help out when such events are in Alberta.
No posts found.
Product Details
| | |
| --- | --- |
| Sport | |
| Format | Value Pack |
| String Type | |
| String Gauge | |
| Diameter | 0.69mm |
| Colours | White |
| Brand | |
| Item Type | Ships from e-commerce division |