Description
Our Description
The newest version of Yonex' top selling wide court shoe features the Toe Assist Shape first tested in 2019. This means that the toe box of this new model is genuinely wide. As far as we know, this is now the widest indoor court shoe on the market.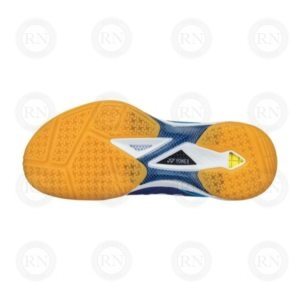 ---
Sport Suitability
This shoe was created specifically for badminton, but that does not mean it can be used only for badminton. In fact, this shoe is suitable for a wide variety of sports, including:
pickleball
squash
racquetball
table tennis
tennis
fencing
handball
dodgeball
floor hockey
floorball
crossminton
crosstraining
netball
stage combat
Keep in mind that the sole of this shoe works best on surfaces such as hardwood, mats, vinyl, and carpet. It is not ideal for use on hard acrylic tennis courts, concrete, asphalt, or clay, but it can be used on all of them.
---
Width of the Forefoot
Each shoe manufacturer describes the width of their shoes in different ways. This shoe is a men's extra wide or a ladies' double extra wide. Some brands call this a 4E, some call it a 3.0, some call it both, some call it neither.
---
Shape of the Toe Box
Our experts have labeled this shoe as a T3W-taper. This means that, provided it is the correct length and width, it work wells for athletes with T1-taper (Egyptian), T2-taper (Roman), T3W-taper (Wide Roman) and Morton's Toe. This shape also generally works well for most older athletes and/or most athletes with bunions.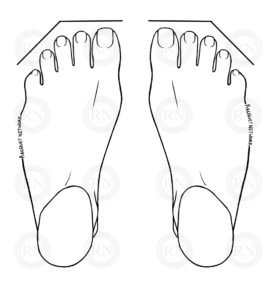 As always, we strongly recommend trying shoes on before buying them. There is a lot more to a proper fit than just the length/width. The shape of your toe line plays a major role in overall comfort and performance. If your toe line conflicts with the taper of the toe box, it can result in injuries.
If your feet are wide, book an appointment for a professional shoe fitting.
If your feet are standard width, order online and choose SHIP TO STORE. You will be able to try them on in the pro shop before committing to them.
---
Warning Signs
The most common warning signs that your shoes do not fit correctly:
chaffing, calluses, corns, blisters, bunions, hammertoes
pain in joints or knuckles of toes
blackened or bruised toenails
busting or tearing through sides of shoes
busting or tearing through tops of toe boxes
Contrary what what other players may tell you, shoes that are causing injuries to your feet are not the right size. If you are getting injuries of any kind from your shoes, they are the wrong size, the wrong width, the wrong shape, or all of the above.
Shoes that fit properly allow your feet to move athletically inside of the shoe. This includes toe spreading as well as up-down toe movements that are essential for balance and recovery. Shoes that are too tight restrict your feet from making the adjustments necessary for balance.
If standard-width shoes are causing injuries, you may be too wide for them. Book an appointment for a professional shoe fitting with a coach who is ethically bound to give you good advice.
---
Try this Shoe on
Our bricks-and-mortar pro shop and our website are
completely separate business units
. However we do work together on some things, such as shoes.
If you wish to try shoes on, you may order them online and choose SHIP TO STORE. You will be notified when your shoes arrive in the pro shop. You will then be able to try them on in the pro shop before committing to them.
---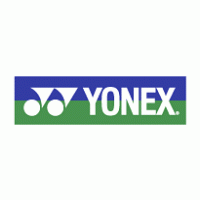 Manufacturer's Description
POWER CUSHION+ construction enables a new level of fast and light footwork.
Product Features
---
Power Cushion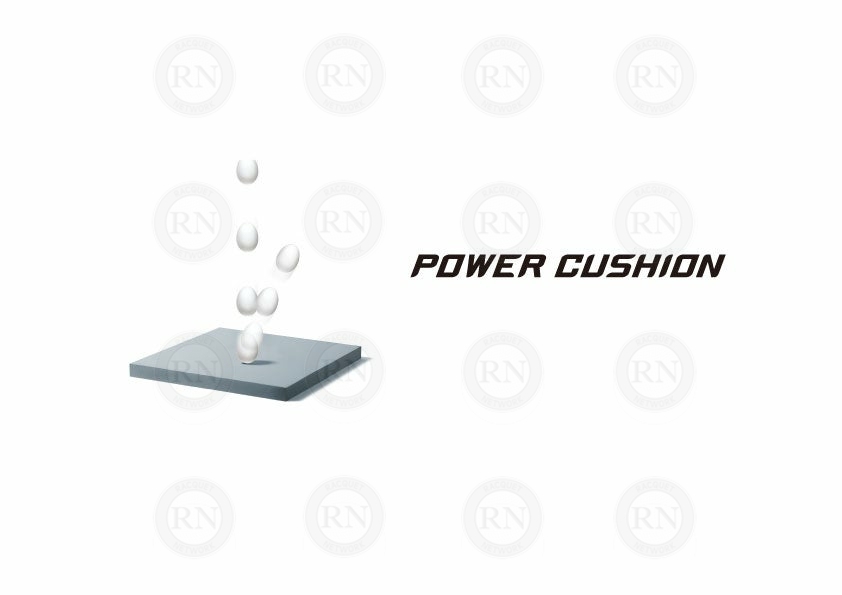 The YONEX Power Cushion absorbs shock then reverses the impact energy for smooth transfer into the next movement. Compared with urethane, the YONEX Power Cushion construction provides 3 times more shock absorbing power. When dropped from 7m above a Power Cushion sheet, an egg will bounce back 4m without damage.
---
Yonex Power Cushion Plus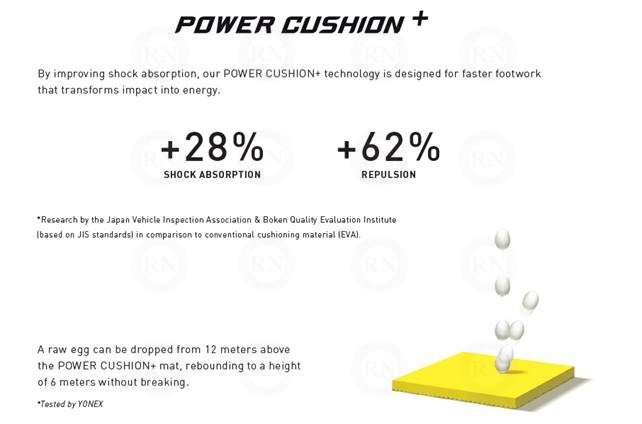 A raw egg can be dropped from 12 meters above the POWER CUSHION+ mat, rebounding to a height of 6 meters without breaking. **Tested by YONEX** POWER CUSHION™ is a trademark of Yonex Co., Ltd. *Research by the Japan Vehicle Inspection Association & Boken Quality Evaluation (based on JIS standards) in comparison to conventional cushioning material (EVA).
---
Double Raschel Mesh
Double Raschel Mesh is an ultra fine mesh that is extremely lightweight and durable.
It provides eight times more air exchange for releasing moisture than ordinary mesh fabric.
---
3D Power Graphite Sheet
A graphite plate is inserted under the middle portion of the sole to increase stability and reduce weight within the shoe.
The redesigned 3D Power Graphite Sheet positioned at the mid to outer part of the sole improves torsional rigidity where it is needed most.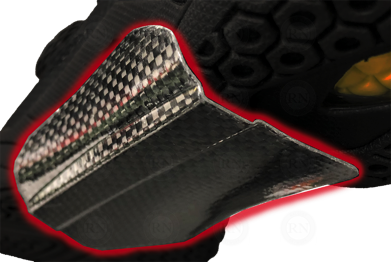 New 3D Power Graphite Sheet Torsional Rigidity: +20%
---
Synchro Fit Insole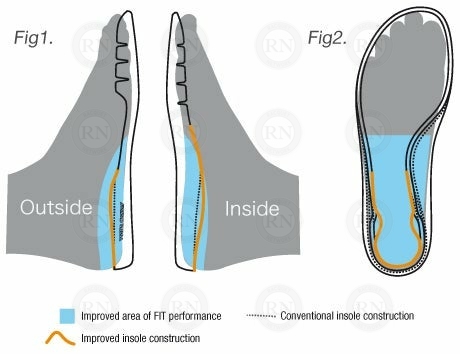 YONEX ™ Synchro-Fit Insole construction creates a secure contact between foot and shoe, reducing energy wastage through an improved fit.
Fig 1. Compared with conventional badminton shoes, the mid to heel section on the insole is elevated to provide an improved fit between foot and shoe.
Fig 2. By holding the heel firmly against the insole, the gap between foot and shoe is reduced, improving comfort and performance, ensuring the foot has maximum grip inside the shoe.
---
Toe Assist Shape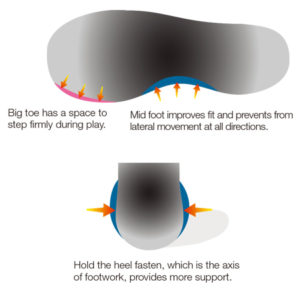 A toe-centric design that cuts down on pressure in the big toe, as well as offering improved support at the mid-foot and heel for a stable fit. Power loss is reduced, allowing for swift footwork.
---
Round Sole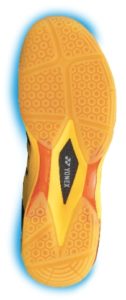 The YONEX ™ Round Sole is designed to provide all-around support for quick and smooth footwork. The Round Sole ensures smooth movements and transfer of maximum energy.
Court Shoe Experts
Product Details
| | |
| --- | --- |
| Offer Type | This offer must be purchased through the website |
| Item Type | Ships from e-commerce division |
| Store Availability | This ecommerce website does not track in-store inventory, in-store offers, or in-store prices. That information is available in-store. |
| Try Shoes On | If you want to try shoes on, order them and choose SHIP TO STORE. You will be notified by email when they are in-store so that you can go in and try them on. |
| Gender | Men |
| Brand | |
| Sport | Badminton, Crossminton, Dodgeball, Floor Hockey, Floorball, Handball, Pickleball (Indoor), Racquetball, Squash, Table Tennis, Volleyball, Walleyball |
| Grade | Adult Recreation |
| Shoe Size | US MEN 7, US MEN 7.5, US MEN 8, US MEN 8.5, US MEN 9, US MEN 9.5, US MEN 10, US MEN 10.5, US MEN 11, US MEN 11.5, US MEN 12 |
| Shoe Width | |
| Lace | Light Blue, Dark Blue, White, Black, Hot Pink |