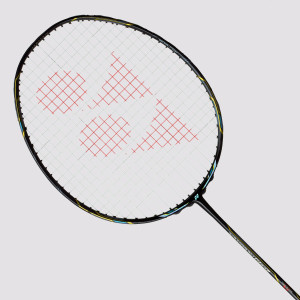 The "3 Things We Like About It" product review series was created to give customers a brief summary of the three most important features of new products in our southwest Calgary store. All products in this series are available in-store and online at the time of publication.
---
The Yonex ™ Nanorary Glan Z was released in Canada in April of 2015. It was created for doubles players who need a little help from the racquet in the power department. Specifically, it was created for older players who may not have the swing speed they once had. As a result, we expected this racquet to be a "little old ladies" doubles racquet.
Much to our surprise, however, it's not. Instead the Glan Z turns out to be an excellent racquet for players of any age who want to improve the depth of their backhand clear shots.
Technically speaking, this racquet was created to offer power and consistency at lower swing speeds. Both the isometric shape of the head and the Vertical-A Concept grommets work to enlarge and maximize the power of the sweet spot. At the same time, the aerodynamic head shape combined with a thinner profile lower frame and a wider profile tip give the Glanz optimum repulsion, especially at lower string tensions.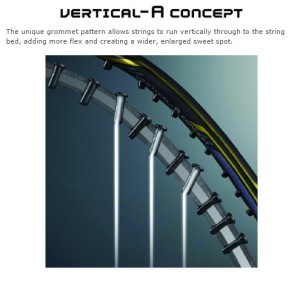 So when you think about it, it becomes obvious. It really doesn't matter what level the player is at; their backhand swing speed is always slower than their forehand swing speed. That just a biomechanical reality. So when Yonex designs a racquet that offers more power at slower swing speeds, of course they end up with a racquet that improves power on the backhand.
This improvement is just one of the things that we like about the Glan Z. What we also like are the weight and the balance. Unlike many high performance racquets which are so light that they contribute to the development of tennis elbow in recreational badminton players, the Glan Z averages a sensible 83 grams. In the balance department, meanwhile, the Glan Z is head light, which makes it perfect for clearing and dropshots.
Overall, this racquet is best-suited to defensive players who need a little help on their backhand clears. Infused with the new REXIL FIBER material and built based on the Torque Power Theory, the GlanZ sends the shuttlecock even further than other racquets in the Nanoray series. It is available in Brilliant Black. Demos are available in-store right now.
---
| | |
| --- | --- |
| | For a full list of racquets in this category, please check out our ONLINE RACQUET SELECTOR. You can sort by sport, gender, brand, size, weight, balance and more. |