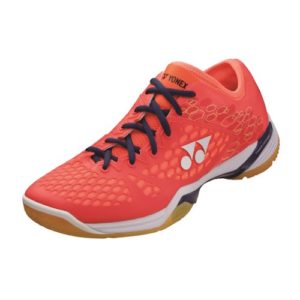 Badminton shoes have to fit properly; that's a given. But what else do you need to know?
Believe it or not, where you play will influence your shoe selection.
Here in Calgary, for example, someone who plays at Clear One Badminton Centre you will probably want different shoes than someone who plays at Sunridge Badminton Centre. People who play at Smash City, meanwhile, may want a completely different shoe that for either of these places.
This is because the best shoe depends to a great deal on the surface you are playing on. Clearone has hardwood floors. So most players will want to choose a shoe with additional cushioning. Sunridge and Smash City have mats, but they are different brands (Victor and Black Knight) and different qualities, so the shoe you pick for each may be slightly different.
Racquet Network carries Calgary's largest selection of badminton shoes. In fact, we have the largest selection of court shoes of all kinds. We also have experts who know the clubs in Calgary.
Come in for a fitting with our experts and leave with the perfect fit for your feet. We are open 7 days a week. Monday to Friday 11:00am to 8:00pm. Saturday and Sunday 11:00am to 5:00pm.
---
| | |
| --- | --- |
| | For a full list of shoes in this category, please check out our ONLINE SHOE SELECTOR. You can sort by sport, gender, brand, size, width and price. |
---
Badminton Shoes for Calgary Badminton Facilities
---
| | |
| --- | --- |
| | For a full list of shoes in this category, please check out our ONLINE SHOE SELECTOR. You can sort by sport, gender, brand, size, width and price. |