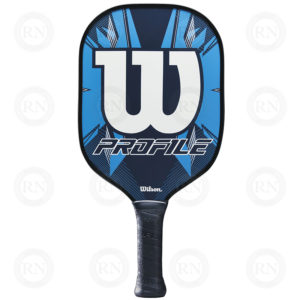 As Canada's largest pickleball supplier, we answer a lot of questions about pickleball paddles. The question we hear most often is this: Which pickleball paddle should I buy?
There are certainly lots of choices out there. So this is a pretty general question. The way we answer it depends on whether the person to whom we are speaking is a recreational player or a competitive player.
Recreational pickleball players, we will explain, tend to expect their paddles to last forever while competitive players don't. Competitive players understand that even the best paddles wear out and break down over time. So durability is not usually a major issue to them.
Recreation players, on the other hand, tend to care a great deal about durability. In fact, some of them seem to believe that a pickleball paddle is a once-in-a-lifetime purchase.
---
| | |
| --- | --- |
| | For a full list of racquets in this category, please check out our ONLINE RACQUET SELECTOR. You can sort by sport, gender, brand, size, weight, balance and more. |
---
For players in this category we usually recommend 2G pickleball paddles complete with edge guards. we also recommend that they choose a brand well-known for durability, such as Wilson.
Although they look a little old fashioned compared to sleek, modern, edgeless 3G pickleball paddles preferred by competitive players, the edge guards on 2G paddles perform an important function — they protect the most vulnerable part of the paddle from damage.
Are we saying that 2G paddles will last forever?
No, we're not. Many of the 2G paddles made by US manufacturers have cardboard cores — sometimes call "composite" cores. If one of these "composite" paddles is in your bag when you have a major water bottle leak, the cardboard may suck up the water and permanently damage your pickleball paddle.
Sadly, no pickleball paddle will last forever. The best you can do is to go with trusted brands and to ask questions about warranties.
---
| | |
| --- | --- |
| | For a full list of racquets in this category, please check out our ONLINE RACQUET SELECTOR. You can sort by sport, gender, brand, size, weight, balance and more. |
---
Wilson, the largest sporting goods manufacturer in the world, offers a one-year warranty against manufacturer's defects on its Xcel, Profile, Surge and BLX Tour paddles. Pickle-Ball Inc, the world's oldest pickleball manufacturer offers at three month warranty on their whole line.
Ask the person you are buying the paddle from how they handle warranty issues. If you are buying paddles from some guy selling them out of his bag, chances are that you won't get warranty protection when you need it most. However, if you are buying your paddles from a legitimate retailer, you can expect a higher level of service.
Here at Racquet Network, all Wilson warranty issues are dealt with right in our Calgary store. No shipping is necessary for local customer. However, with Pickle-ball Inc paddles, the customer has to ship the defective paddle back to the manufacturer in the US at their own expense.
That fact, combined with the polymer cores in all Wilson pickleball paddles, generally leads us to recommend Wilson paddles to recreational players for whom durability is a major concern.
---
| | |
| --- | --- |
| | For a full list of racquets in this category, please check out our ONLINE RACQUET SELECTOR. You can sort by sport, gender, brand, size, weight, balance and more. |