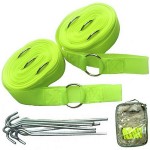 One of the great advantages to speed badminton is the low buy-in cost. All players need to get started in the sport are racquets, speeders and a court.
In many racquet sports, the cost of the court is a severely limiting factor. Regulation indoor badminton courts with hardwood floors, for example, cost at least $5,000 per court — and that's only if you already have a building to put them in.
Squash and racquetball courts, on the other hand, start at about $50,000 per court while outdoor tennis courts are nearly twice that much.
Compare this to speed badminton where the cost per court is under $30.00.
That's right!! Less than $30.00 per court.
The Oakridge Community Association in Calgary, Alberta, recently added 10 speed badminton courts to their annual racquet sports program for a cost of less than $300.00. For an additional $400.00 they also purchased all of the racquets, speeders and other accesories that will be needed to run speed badminton programs for an entire outdoor season.
The addition of these courts has allowed this non-profit community association to create added value for each annual membership sold. In addition to eight outdoor tennis courts, members of the community association will now be able to access 10 grass speed badminton courts — all of which will be overseen by existing personnel.
All the community had to do to make this happen was to get the City of Calgary's permission to begin running speed badminton programs on an empty, underutilized, manicured green space that was adjacent to the tennis courts in Oakridge.
Easy Court Set Up
Setting up the speed badminton easy courts each day is easier than setting up a pup tent.
Each court consists of two 18′ X 18′ squares set 42 feet apart.
Each square consists of four metal rings connected to each other by four yellow nylon bands. These are fastened to the ground with thin, metal tent pegs.
Begin by staking one of the two squares needed in place with the pegs included in the Easy Court package. Then measure a distance of 42 feet directly opposite and stake out the second square.
Take care when staking out each square to stretch the bands tightly. The fabric does relax a little after set up which can cause loose lines that get moved around by the breeze. But as long as you take a few extra seconds to pull them tight during set up, this won't be a problem.
Once the squares are in place, set up is complete. Speed badminton does not require a net, so play can begin immediately.
Each square takes about 2 minutes to set up. So it is possible to set up 10 courts in less than an hour. However, when the stakes are left in the ground overnight, set up time is cut in half.