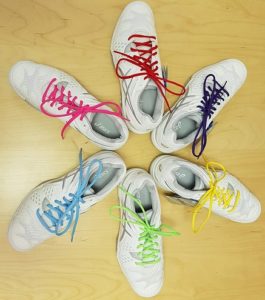 Female racquet sports players in Canada are often frustrated by the lack of selection available in court shoes. In Canada, it seems, you can have any colour you want — as long as it's white.
In the United States, where tennis is a major sport with millions of frequent players, shoe buyers are able to bring in lots of shoes in lots of different styles and colours. Here in Canada, however, where tennis is not a major sport and where wholesalers are in jeopardy of getting stuck with unsold inventory at the end of the season, the buyers are more conservative.
In contrast to American buyers, Canadian buyers bring in lots of white, a little black and very little of anything else FOR MEN. In the case of women's shoes, they offer even fewer options. White or white with a small splash of pink, a hint of baby blue or a touch of coral is often the full extent of colour options for Canadian women.
Truth be told, the same is true for racquet sports apparel. More than 70% of the ladies apparel offered to our buyers by Canadian wholesalers is white, while 20% is black and the remaining 10% — at most — is another colour, usually one colour per season. The guys get more colour options than the women, primarily because male racquet sports players outnumber female players by about 10 to one. But white and black still dominate the men's apparel category, too.
So Canadians who enjoy a bit of colour in their racquet sports wardrobe have learned to accessorize. Coloured laces, for example, add some colour to all white tennis or pickleball shoes. Add a matching sock increases colour intensity. Wristbands, headbands, hairbands, visors, racquet grips, overgrips, strings and other accessories can also provide accessorizing colour on top of a base coat of white.
"Some tennis players are sensitive to colour options," says Genevieve Johner at Racquet Network's southwest Calgary store. "but pickleball players, especially ladies, are obsessed with it. If their shoes don't match their pickleball paddle, they aren't interested."
Fortunately, Racquet Network now carries laces and other colourful accessories that make this possible for pickleball players and everyone else.