Description
Babolat ™ Addiction Tennis String Set – 16 Gauge
Our Description
Babolat Addiction is an excellent multifilament string for most recreational tennis players. Not suitable for frequent string breakers. This string has an anti-abrasion coating which prolongs life and reduces wear breaks. However, like all multifilament strings, Addiction is soft and is susceptible to sheer breaks. Therefore we don't recommend it to hard hitting men or to player who pound flat serves.
Babolat Addiction is a relatively stiff, durable, non-poly tennis string with some of the characteristics of multifilament and some characteristics of synthetic gut. It is more durable than Babolat Synthetic gut and more durable than soft multifilament strings like Babolat Xcel.
Manufacturer's Description
The ideal compromise. Multifilament string combining comfort, power and durability. Exclusive to Babolat incorporation of PTFE fibers. The very low coefficient of friction of this material reduces abrasion between the main strings and the cross strings, prolonging the life of the string.
Manufacturer: Babolat
Sport: Tennis
Type: Multifilament
Gauges: 16
Colours: Natural
---
Racquet String Categories
The are several categories of racquet string. Each has pros and cons. For a summary that hits on the main features of each category, please refer to our Racquet String Categories Guide.
---
String Gauge Guide
Racquet strings come in a variety of gauges each of which has pros and cons. For a better understanding of gauges, please see our Racquet String Gauge Guide.
---
We are Racquet Stringing Experts
---
Yonex Stringing Team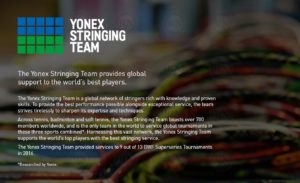 Racquet Network is a member of the prestigious Yonex Stringing Team. We are invited to string at elite tennis and badminton events. While we cannot attend every event we are invited to, we do our best to help out when such events are in Alberta.
Product Details
| | |
| --- | --- |
| Sport | |
| Format | String Set |
| String Type | |
| String Gauge | |
| Diameter | 1.30mm |
| Colours | Natural |
| Brand | |
| Item Type | Ships from e-commerce division 3 |