Description
Tecnifibre ™ Synthetic Gut Squash String – 17 Gauge
Our Description
Tecnifibre Synthetic Gut 17 can be used for tennis or squash. It is an excellent choice for players on a budget who play infrequently and purely for exercise or recreation.
Synthetic gut also the best string to use for racquets with missing, broken or spit grommets and heavily damaged bumper guards.
While 17 gauge is the standard gauge for squash, we sometimes recommend that frequent string breakers (typically men) string with the thicker 16 gauge instead. We also recommend 16 gauge to players with racquets with severe damage to grommets and bumper guards.
Manufacturer's Description
Tecnifibre Synthetic Gut is a resilient yet durable string for players looking for a string with increased durability and added playability.
A center core wrapped with single monofilaments ensures the string is more hard wearing than most synthetic guts whilst providing a degree of control.
Specifications
Manufacturer: Tecnifibre
Sport: Tennis, Squash, Racquetball
Type: Synthetic Gut
Gauges: 17
Colors: Natural
---
Racquet String Categories
The are several categories of racquet string. Each has pros and cons. For a summary that hits on the main features of each category, please refer to our Racquet String Categories Guide.
---
String Gauge Guide
Racquet strings come in a variety of gauges each of which has pros and cons. For a better understanding of gauges, please see our Racquet String Gauge Guide.
---
We are Racquet Stringing Experts
---
Yonex Stringing Team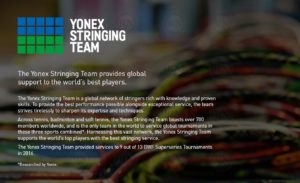 Racquet Network is a member of the prestigious Yonex Stringing Team. We are invited to string at elite tennis and badminton events. While we cannot attend every event we are invited to, we do our best to help out when such events are in Alberta.
Product Details
| | |
| --- | --- |
| Sport | |
| Format | String Set |
| String Type | |
| String Gauge | |
| Diameter | 1.25mm, 1.30mm |
| Colours | Natural |
| Brand | |
| Item Type | Ships from e-commerce division 3 |