Description
Victor ™ AS3 Wide
Our Description
This court shoe is in our Adult Recreation category. Shoes in this category are suitable for continuous recreational adult use over prolonged periods of time.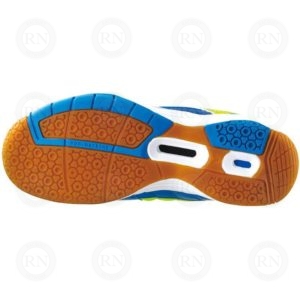 ---
Sport Suitability
This shoe was created specifically for badminton, but that does not mean it can be used only for badminton. In fact, this shoe is suitable for a wide variety of sports, including:
pickleball
squash
racquetball
table tennis
tennis
fencing
handball
dodgeball
floor hockey
floorball
crossminton
crosstraining
netball
stage combat
Keep in mind that the sole of this shoe works best on surfaces such as hardwood, mats, vinyl, and carpet. It is not ideal for use on hard acrylic tennis courts, concrete, asphalt, or clay, but it can be used on all of them.
---
Width of the Forefoot
Each shoe manufacturer describes the width of their shoes in different ways. This shoe is a men's extra wide or a ladies' double extra wide. Some brands call this a 4E, some call it a 3.0, some call it both, some call it neither.
---
Shape of the Toe Box
Our experts have labeled this shoe as a T3W. This means that, provided it is the correct length and width, it work wells for athletes with T1 (Egyptian), T2 (Roman), T3W (Wide Roman) and Morton's Toe foot shapes. This shape also generally works well for most older athletes and/or most athletes with bunions.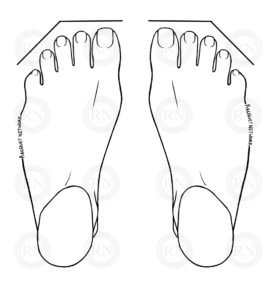 As always, we strongly recommend trying shoes on before buying them. There is a lot more to a proper fit than just the length/width. The shape of your toe line plays a major role in overall comfort and performance. If your toe line conflicts with the taper of the toe box, it can result in injuries.
Book an appointment for a professional shoe fitting to find out what fits and what doesn't.
---
Warning Signs
The most common warning signs that your shoes do not fit correctly:
chaffing, calluses, corns, blisters, bunions, hammertoes
pain in joints or knuckles of toes
blackened or bruised toenails
busting or tearing through sides of shoes
busting or tearing through tops of toe box
Contrary what what other players may tell you, shoes that are causing injuries to your feet are not the right size. If you are getting any kinds of injuries from your shoes, they are the wrong size, the wrong width, the wrong shape, or all of the above.
Shoes that fit properly allow your feet to move athletically inside of the shoe. This includes toe spreading as well as up-down toe movements that are essential for balance and recovery. Shoes that are too tight restrict your feet from making the adjustments necessary for balance.
If you doubt this, think of your hands. How much dexterity would your fingers have if they were all bound together inside of a skin-tight mitten? Now extend that thinking to your feet. Stand on one bare foot on the floor and try to balance without moving your toes. It simply can't be done.
FREE YOUR TOES. Improve your balance and your performance will improve along with it. Book an appointment for a professional shoe fitting with a coach who is ethically bound to give you good advice. Get shoes that will actually contribute to improving your performance.
---
Try this Shoe on
Our bricks-and-mortar pro shop and our website are
completely separate business units
. However we do work together on some things, such as shoes.
If you see a shoe on our website and want to know if it will fit your foot, you may order it and choose SHIP TO STORE. It will be shipped to the pro shop in the size and color requested. You will be notified when it gets there so that you can go into the pro shop and try it on.
If the shoe does not fit, or if you decide not to take it for any reason, the pro shop will let us know and we will process a refund.
The Brand

Victor Sports was founded in Taiwan in 1968. Within a few years, the company's feather badminton shuttles were generally recognized at the best badminton shuttles in the world. Rapid European expansion occurred over the 1990s as demand for the brand increased worldwide. Today, the quality of Victor badminton products in many categories is comparable to Yonex while remaining lower in price across the board.
Shoe Technology
---
Carbon Power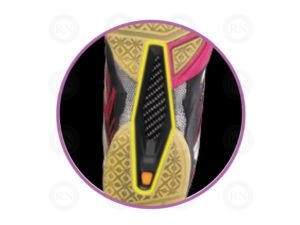 The three-dimensional carbon fiber provides mid-sole stability and decreases torsional strain on the foot's arch.
---
Energy Max 3.0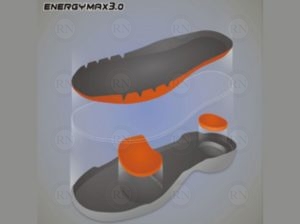 The new generation of highly elastic material, with a 22% increase in rebound ability. The shock absorbency increases by 6%, which can dramatically enhance the instant resilience, shock absorption and cushioning effect of shocks.
---
Light Resilient EVA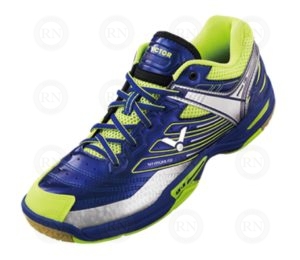 A new, completely upgraded lightweight, highly resilient and durable midsole, which has a 16% increase in durability when compared to Victor's original high resilience EVA. It improves the life-span of shoes, reduces weight by 19%, increases flexibility by 5% and lowers muscle burden intensive exercises, which allows on to take agile steps quickly.
---
V-Durable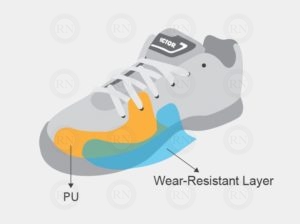 An additional, wear-resistant layer has been added to the inner toe area to increase shoe durability.
---
Energy Max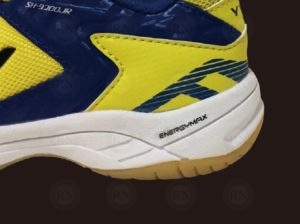 The high elasticity shock absorbing material on ENERGYMAX has excellent durability, strength and retains its shape wll. It is used in footwear-related products to increase the overall support of the shoes. It reduces momentum loss and redirects the momentum towards the next direction.
Court Shoe Advice
Product Details
| | |
| --- | --- |
| ESW | 0.874 kg |
| ESD | 34 × 19 × 12 cm |
| Gender | Men |
| Brand | |
| Shoe Size | US MEN 6, US MEN 6.5, US MEN 7, US MEN 7.5, US MEN 8, US MEN 8.5, US MEN 9, US MEN 9.5, US MEN 10, US MEN 10.5, US MEN 11, US MEN 11.5 |
| Sport | Badminton, Dodgeball, Floorball, Handball, Lacrosse (Indoor), Pickleball (Indoor), Racquetball, Squash, Table Tennis, Volleyball, Walleyball |
| Grade | Adult Recreation |
| Shoe Width | |
| Colours | Blue, Green, White |
| Item Type | Special Order Item |