Description
Yonex ™ BG65 Titanium Badminton String
---
Endorsed by: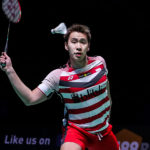 Our Description
Yonex BG65 Titanium has the same mulifilament core as BG65, but it has a different coating that makes it harder feeling than BG65. This coating also reduces the string's overall durability to a very small degree.
Yonex BG65 has become the most popular badminton string in the world because it is durable and affordable. It is especially popular with adult men who play with nylon shuttles because many of these men are frequent string breakers who don't want to pay to have their racquets restrung. BG65 Titanium was created for players who want similar durability but with a harder feeling string.
Like Yonex BG65, BG65 Ti is a great string for adult men who play with nylon shuttles and who break strings often. However, BG65 Ti is too stiff for most women, juniors and seniors. It is too stiff for players who weigh less than 150 lbs. It is too stiff for high- and medium-flex racquets. And it is too stiff for most 4U, 5U and F racquets.
Given these facts, we only recommend this string to two groups of people. The first group includes all people who want maximum durability in a hard feeling string and do not care about anything else. The second group includes big, strong, athletic men who tell us that they are frequent string breakers.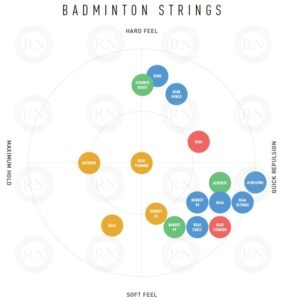 Manufacturer's Description
Designed for hard hitters using nylon shuttles. BG65Ti is one of several string that we will recommend to frequent string breakers, especially if they are big strong men.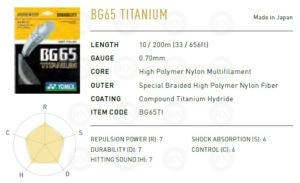 String Specifications
Material: MULTIFILAMENT / HYDRO TITANIUM
Length: 10m (33 ft)
Gauge: 0.70mm
Key Properties
– Durability
– Hard Feeling
---
Racquet String Categories
The are several categories of racquet string. Each has pros and cons. For a summary that hits on the main features of each category, please refer to our Racquet String Categories Guide.
---
String Gauge Guide
Racquet strings come in a variety of gauges each of which has pros and cons. For a better understanding of gauges, please see our Racquet String Gauge Guide.
---
We are Racquet Stringing Experts
---
Yonex Stringing Team
Racquet Network is a member of the prestigious Yonex Stringing Team. We are invited to string at elite tennis and badminton events. While we cannot attend every event we are invited to, we do our best to help out when such events are in Alberta.

---
Badminton Racquet Stringing – Expert Advice

No posts found.
---
Service Language Options
In addition to English, we have staff available who can serve customers in other languages.
我们提供普通话服务!给我们发个电子邮件,或者来我们的商店预约。我们会高兴的帮助您。
很抱歉,我们不在电话上提供中文服务
电子邮箱: orders@racquetnetwork.com
商店地址: 310-2525 Woodview Dr SW T2W 4N4
Ang Dito sa Racquet Network ay nagbibigay ng serbisyo sa tagalog. Mag email lang sa orders@racquetnetwork.com. O mag-book lang ng appointment sa store namin na matatagpuan sa 310-2525 Woodview Dr SW T2W 4N4. Ang tulong sa tagalog ay hindi maaari sa pamamagitan ng tawag.
Product Details
| | |
| --- | --- |
| Sport | |
| Format | String Set |
| String Type | |
| String Gauge | |
| Diameter | 0.70mm |
| Colours | Blue, Pink, Red, White |
| Brand | |
| Item Type | Ships from e-commerce division 3 |