Description
Yonex ™ Nanogy 98 Badminton String
Our Description
YONEX Multifilament features a super-fine diameter for high durability and a soft feel on impact.
Advanced construction minimizes notching of the string at intersections for greater durability and high repulsion power.
Nanogy 98 is a super thin — 0.66mm — string. This gives it great repulsion for high clear and defensive shots. On the downside, thin string is not as durable as thick string. So Nanogy 98 is not a good string for smashers and/or hard hitters.
Nanogy 98 was designed for use with feather shuttles. It is too thin to be able to effectively grab the synthetic head of a nylon shuttle.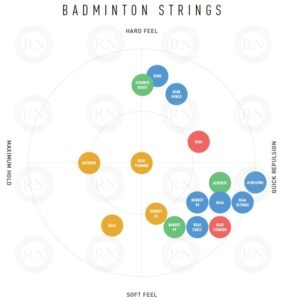 Manufacturer's Description
Sharp feeling with 0.66mm gauge. Great repulsion for high clear and defensive shots.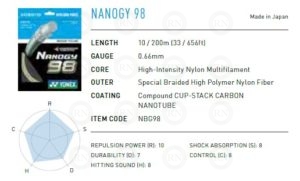 String Properties
Material: MULTIFILAMENT / CS CARBON NANOTUBE
Length: 10/200m (33/656 ft)
Gauge: 0.66mm
Color:
– Cosmic Gold
Key Properties
– High Repulsion
– Medium Feeling
---
Racquet String Categories
The are several categories of racquet string. Each has pros and cons. For a summary that hits on the main features of each category, please refer to our Racquet String Categories Guide.
---
String Gauge Guide
Racquet strings come in a variety of gauges each of which has pros and cons. For a better understanding of gauges, please see our Racquet String Gauge Guide.
---
We are Racquet Stringing Experts
---
Yonex Stringing Team
Racquet Network is a member of the prestigious Yonex Stringing Team. We are invited to string at elite tennis and badminton events. While we cannot attend every event we are invited to, we do our best to help out when such events are in Alberta.

No posts found.
Product Details
| | |
| --- | --- |
| Sport | |
| Format | String Set |
| String Type | |
| String Gauge | |
| Diameter | 0.66mm |
| Colours | Gold |
| Brand | |
| Item Type | Ships from e-commerce division 3 |
| COLOUR | Cosmic Gold |