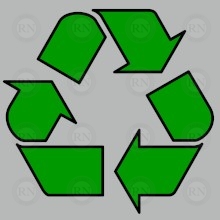 So you just cleaned your garage out and found some old tennis, squash, badminton or racquetball racquets. They seem like they are still in good shape — in fact, they are practically new.
So what to do with them?
You could give them away … if you knew somebody who wanted them.
You could sell them … but that's a lot of work for the $5.00 price you might get on Kijiji.
Or you could recycle them … or can you?
Can old racquets even be recycled?
If you read the City of Calgary's website regarding advice for recycling used sporting goods, you will note that they advise putting these things in your black bin.
In other words, they tell you put them in the garbage. This is because, Calgary's recycling system cannot recycle things like tennis, squash or badminton racquets.
The only way to recycle them is to sell them or give them away so that they can be used again. In doing so, at least you might prevent somebody down the road from buying something new which will also end up in the garbage.
If you are faced with this problem, Racquet Network can help you. We recycle some old tennis, squash, badminton and or racquetball racquets by refurbishing them and selling them to families and recreational players who prefer not to buy something new.
We don't pay for the old racquets people bring in to be recycled, but neither do we charge people for them. All we do is recover the cost of refurbishment. So if we take an old racquet and refurbish the grips and strings, we sell it for the cost of the grips and the strings. We don't charge for the racquet itself because we didn't pay for it.
Now … there are some limits to this program.
First, we don't refurbish old wooden racquets unless they are in pristine condition and could be used for decorations or props. But if you bring them in, we will look at them and determine what if anything might be done with them.
Second, we don't repair broken racquets. If the frame is broken, the racquet cannot be recycled. So please put it in your black bin.
Finally, we will not offer you so much as a penny for your old frame. So please do not imagine you are going to come in and haggle with us, because that's not going to happen.
If, however, you have an old racquet and you want us to help you get it into the hands of somebody who will use it, bring it into the store and leave it with us. If it can be salvaged, we will salvage it. If not, we will dispose of it for you. Either way, your conscience is clear.