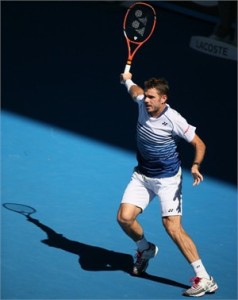 YONEX MEDIA RELEASE
27 March 2015
Coming off of the VCORE Tour F 93's award in Tennis Magazine (USA) and the POLYTOUR PRO 125's praise on Stringforum.net, eyes are on Yonex ™ tennis gear once again, this time with a focus on footwear. In French tennis magazine Tennis Addict, Stan Wawrinka's SHT-PRO shoes received the publication's gold medal in their annual performance test. This marks the fifth consecutive time that Yonex shoes have been awarded in the magazine. SHT-PRO shoes are made to provide smooth movement on any kind of court, and supported Stan as he made his way to his Aircel Chennai and ABN AMRO World Tennis Tournament titles as well as the Australian Open semifinal this year.
This year's performance test saw big changes from previous years, with the introduction of even more advanced evaluation methods. The more comprehensive testing only proved to emphasize the SHT-PRO's merits, receiving praise for its high level of comfort, durability and stability. The shoe came out on top over 14 other models from a pool of eight different brands.
Tennis Addict's test criteria aims to provide readers with highly detailed evaluations that take into consideration several factors. With a combination of lab tests along with user evaluations from a large and diverse panel of players, the magazine's evaluations are made to give users the full and complete picture. The test criteria cover performance, comfort, stability and shape retention.